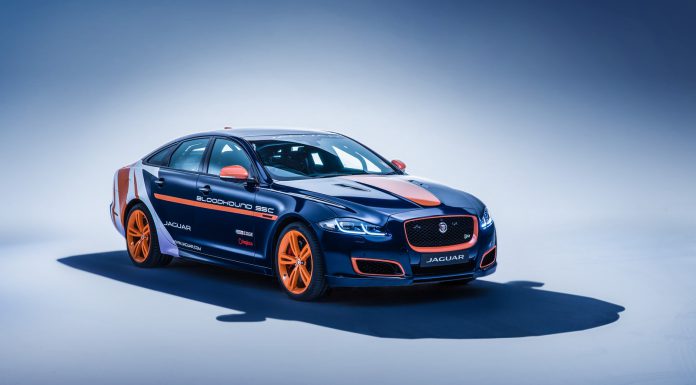 Prior to the Goodwood Festival of Speed 2015, the covers have just been taken off two Jaguar XJR Bloodhound SSC Rapid Response Vehicles. Following on from the Jaguar F-Type AWD Coupe RRV, the two XJRs will aid in the Bloodhound SSC project and its attempt to set a new land speed record of 1609 km/h (1000 mph).
Just like the F-Type RRV, the XJR Rapid Response Vehicles feature bright liveries courtesy of Jaguar Design combining dark blue with bright orange and white accents. Beyond the exterior changes, the XJRs have had their rear seats removed to make way for high-strength roll cages. Additionally, housings have been installed to carry tools and parts like a foam misting cylinder and a hydraulic pump.
The Jaguar XJR Bloodhound SSC Rapid Response Vehicles will join the F-Type during Bloodhound's various land speed record attempts in South Africa.
At Goodwood, one of the XJR RRVs will hit the hill climb on Saturday June 27 with Bloodhound SSC driver Andy Green piloting the car.