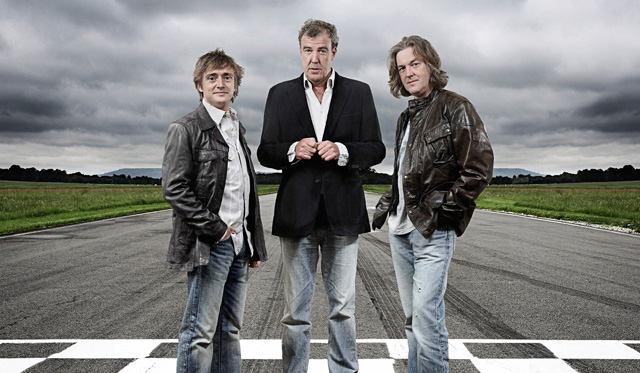 The remaining episode from Top Gear Season 22 is set to air on BBC2 at 8pm on Sunday June 28th. Following the recent confirmation that radio host Chris Evans will lead an all-new line-up for the British motoring show, this episode will be the last to feature former hosts Jeremy Clarkson, Richard Hammond and James May.
The final episode will consist of two films as well as live studio segments presented by Hammond and May. The first of the two films sees the trio purchasing and living with a Fiat 124 Spyder, Peugeot 304 Cabriolet and MGB GT. In typical Top Gear fashion, the three will be presented with a series of challenges throughout.
[youtube]https://www.youtube.com/watch?v=oe4uK53MPik[/youtube]
The second film will then feature Clarkson, Hammond and May purchasing three 4x4s for just 250 pounds each. Clarkson will pilot a Vauxhall Frontera, Hammond a Jeep Cherokee and May will drive a Mitsubishi Shogun Pinin. This film will also include a host of challenges include a battle with the Stig's Leisure Activity Cousin.
While the car show hosting futures of the three aren't known, they are apparently close to inking a deal with Netflix. If they do so, it is reported that they could earn significantly more than though would have if they continued with Top Gear and the BBC. Kevin Spacey, the lead actor on Netflix's extremely popular House of Cards is earning $500,000 per episode and it seems inevitable a car show from Clarkson, Hammond and May could prove just as popular and profitable for the online streaming service.