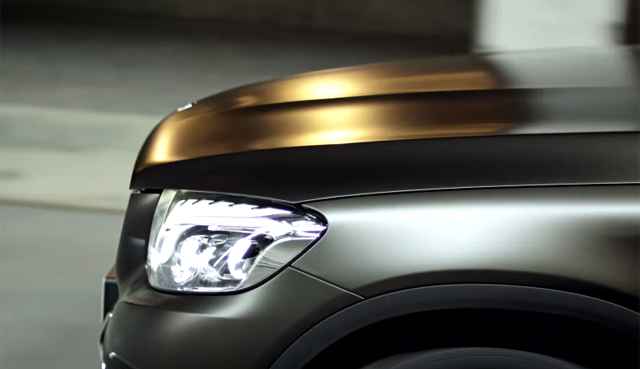 A teaser video of the upcoming 2016 Mercedes-Benz GLC being unveiled later today has just been released.
Thanks to a range of spy shots in recent months of barely disguised prototypes, we already had a good idea of how the GLK-replacing SUV would look. The following video provides us with an even better look at the new car as well as its thoroughly overhauled design and off-roading prowess.
[youtube]https://www.youtube.com/watch?v=RZufWk4C0JI[/youtube]
Designed to replace the Mercedes-Benz GLK, the GLC will initially be sold as a four door but a two-door variant will also be offered down the road. Design wise, the car will take inspiration from the German marque's range of updated SUVs like the sophisticated GLE Coupe.
As such, the front end will feature relatively slimlined headlights alongside a soft-nose front grille and bold air intakes. Squared off wheel arches can also be seen from the sketch as can aggressive body lines and creases on the bonnet and down the doors. Generally speaking, the design of the GLC is much softer than the GLK will fewer straight lines.
Underpinning the GLC will be the same chassis as the W205-generation C-Class. As a result of this, its interior will be similar to the C-Class and unlike the GLK, the GLC will be available in right-hand drive allowing it to enter the UK, Japan and other right-hand drive markets.