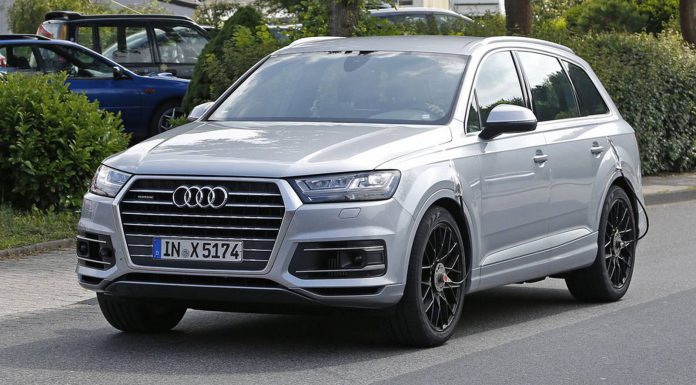 A new Audi SQ7 prototype has been snapped in the midst of testing with absolutely no camouflage. Unlike previous examples, this test mule is painted silver and looks completely ready for the production line aside from the range of wheel sensors.
At the front, the following Audi SQ7 test mule features a slightly more aggressive fascia than existing Q7 variations and is also riding on a set of special matte black wheels. Hiding beneath these wheels are larger carbon ceramic brakes than the standard Q7 providing a hint at the added performance that the SQ7 will offer.
Elsewhere this silver Audi SQ7 test car appears to feature intercoolers hiding behind the front air intakes while the rear end is noteworthy for its quad exhaust tips and new bumper.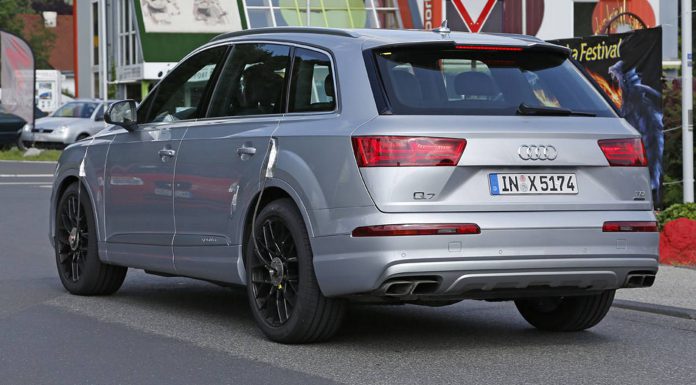 Certain elements about the engine powering the SQ7 remain unclear but we do know it will be a V8 diesel complete with electric turbochargers. Consequently, the new Audi SQ7 will become the German firm's first production model to use electric turbos and will follow on from the 2014 Audi RS5 TDI-e concept which debuted the technology. The entire premise behind electric turbochargers is that they completely eliminate lag to dramatically improve throttle response. This is achieved through the use of an electric motor which spins up the turbo before the hot exhaust gases are funnelled into it. This basically means the turbo is always spooled up.