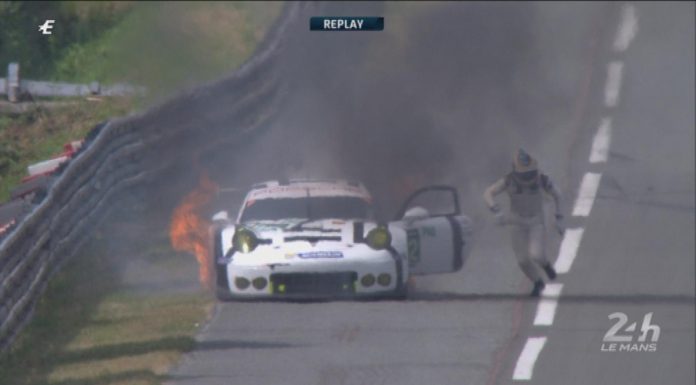 Here are our main crash and burn highlights from the 2015 24 Hours of Le Mans. The race faced quite a number of spins with some cars stalling in the middle of the field and thereby calling out the safety car. The following incidents occurred between qualifying and the main race, some leading to long safety car periods of up to 40 minutes.
1. Jan Magnussen Corvette Crash
Danish driver Jan Magnussen was the first to crash out heavily during qualifying resulting to a premature retirement. The car was damaged beyond repair forcing him to miss the main race. Nonetheless, the Corvette Racing team performed well by winning GTE-Pro class with only one car in the field.
[youtube]http://www.youtube.com/watch?v=KGChqdoMeWc[/youtube]
2. #92 Porsche Team Manthey Fire
It was the first major incident of the race involving two other cars – the Rebellion Racing LMP1 car and Strakka-Dome that were stuck on the gravel. The Porsche burst into flames and was the first retirement of the race. The #88 Porsche 911 also caught fire several hours later becoming the third Porsche to catch fire during the week.
[youtube]http://www.youtube.com/watch?v=AQSnWPewQR4[/youtube]
3. #8 Audi R18 Crash
Piloted by Loic Duval the Audi was the second major crash of the race, just three hours after kick-off in what appeared to be a confusion in the slow zone. The car spun before crashing into the barriers and heavily damaging its front bumper.
[youtube]http://www.youtube.com/watch?v=6ozqHHYz_aQ[/youtube]
4. JMW Motorsport Ferrari 458 Fire
This was the third fire of the race albeit taking place at the pit lanes. The Pit crew was able to put out the fire and the car rejoined the race. A second Ferrari fire was reported when the #61 AF Corse Ferrari was engulfed in flames.
[youtube]http://www.youtube.com/watch?v=KrCrDmm2-u4[/youtube]
5. Aston Martin Crashes
Aston Martin had probably the worst Le Mans in history after crashing out of the lead in both GTE classes. The #96 Aston Martin suffered the biggest crash while coming out of the Porsche curves. The #99 car crashed at dawn while leading in GTE-Pro class after hitting an LMP2 car, losing the lead to Corvette. Then with 46 minutes left into the race, the leading #98 Aston Martin in GTE-Am crashed at the Ford Chicane leaving the lead to Ferrari.
[youtube]http://www.youtube.com/watch?v=l6abezcDG2c[/youtube]
[youtube]http://www.youtube.com/watch?v=W7Q3kswteJA[/youtube]