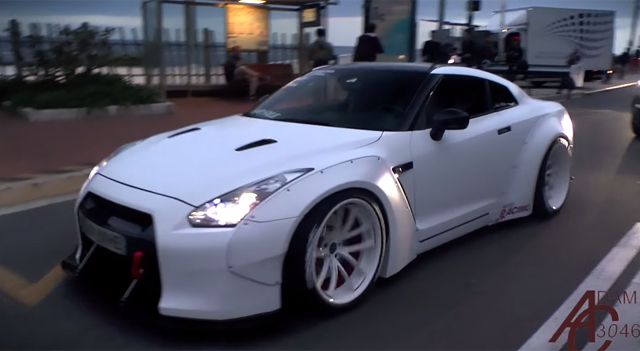 For the performance it provides, the Nissan GT-R features a relatively understated design. After all, the GT-R is a car capable of outpacing Lamborghinis and Ferraris but to many non-car enthusiasts, it isn't even worthy of a second glance. The Liberty Walk GT-R however, is an entirely different proposition.
[youtube]https://www.youtube.com/watch?v=PB62ghYnzig[/youtube]
While it isn't known how many GT-Rs have been equipped with the Liberty Walk kit, the following example recently filmed through the streets of Monaco is one of the most insane. As with most others, it includes massively flared front and rear wheel arches as well as an extended front splitter, custom wheels and a towering rear wing.
One of the most interesting elements of this Liberty Walk GT-R is that its wheels actually match the exterior finish. When combined with tinted taillights and a black roof, its little wonder why it attracted so much attention through the streets of Monte Carlo!