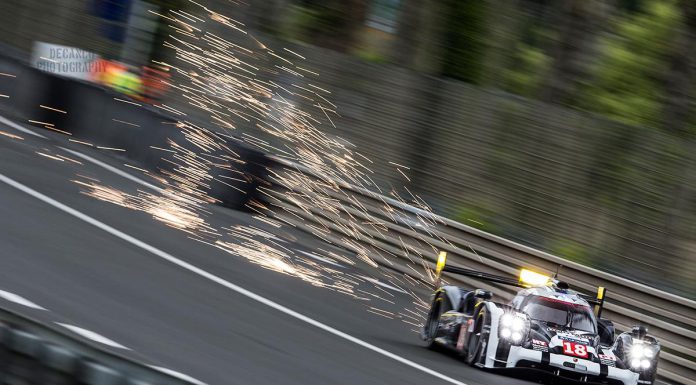 Porsche will head to the 83rd edition of the 24 Hours of Le Mans with the fastest cars after setting the quickest times during testing. The rain hit test sessions allowed drivers to get ready for the main action which will kick off with free practice sessions on June 10. Porsche managed to place two of their cars in the top of the timesheets during both test sessions sharing the podium with Audi while Toyota experienced a bit of a slow test day.
The first morning test session was only dry during the first hour, Neel Jani was lucky to set a time of 3m 21.945 in the #18 Porsche 919 Hybrid – a time that was never outran especially after the rain fell down. The #9 Audi R18 e-tron quattro finished in second 0.362s later while the #07 Audi R18 e-tron quattro claimed third. LMP1 category has 14 entries this year including two Rebellion Racing R-One cars, three Nissan GT-R LM Nismo and a CLM P1/01-AER from Team ByKolles.
The #64 Chevrolet Corvette C7.R of Oliver Gavin set a time of 3m58.162 to top the timesheets in LMGTE Pro class leading the #51 AF Corse Ferrari and the #92 Porsche Team Manthey 911. Ferrari filled all the podium places in LMGTE Am class.
Porsche then set another series of quickest times during the second 4-hour test session in the afternoon taking first and second. Brendon Hartley set a time of 3m21.06 in the red #17 Porsche 919 Hybrid, he led teammate Neel Jani in the #18 car giving Porsche a 1-2 victory. The #7 and #8 Audi R18 e-tron quattro cars finished in third and fourth respectively.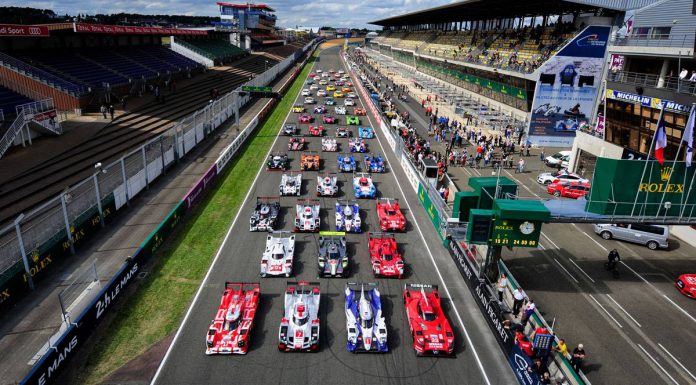 Toyota finished the second test session in 7th and 8th places with the #1 and #2 Toyota TS040 Hybrid's respectively while Nissan recorded a best time of 3m50.713 with the new Nissan GT-R LM Nismo (#22). Aston Martin headed both LMGTE Pro and Am classes with Darren Turner recording a time of 3m58.069 in the #97 Aston Martin Vantage in LMGTE Pro; Tommy Milner placed the #64 Corvette C7.R in second ahead of the #71 AF Corse Ferrari 458 GT2.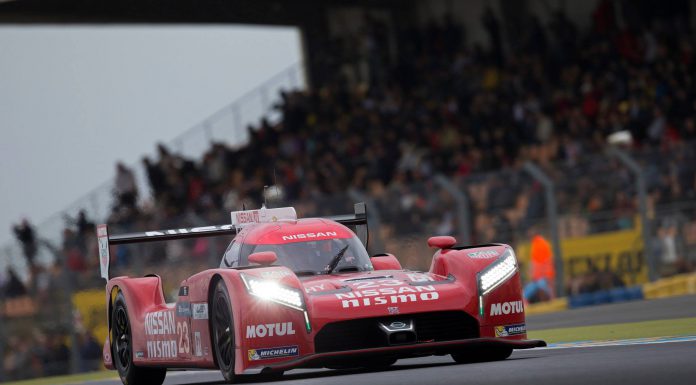 Elsewhere in LMGTE Am class Pedro Lamy was quickest in the #98 Aston Martin Vantage leading the #86 Gulf Racing Porsche and the #55 AF Corse Ferrari 458 GT2. Drivers are now getting ready for the free practice sessions which are scheduled to begin next week on Wednesday.
[Feature Image by Brecht Decancq]