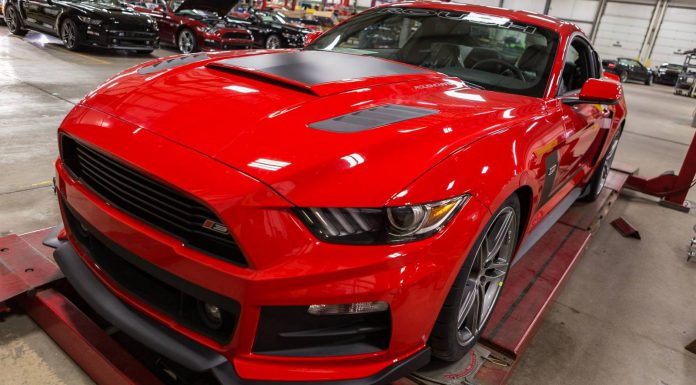 Production of the 2015 Roush Mustang Stage 3 recently kicked off at the American firm's production facility.
It remains to be seen just how many units of the Roush Stage 3 are tipped to be produced annually but one of the first created is finished in a bright shade of gloss black. It also features numerous matte black elements like the prominent bonnet scoop and air intake.
At the heart of the Roush Mustang equipped with the Stage 3 performance package is the American muscle car's standard 5.0-litre V8 engine. However, the engine has been joined with a 2.3-litre TVS supercharger from Roush. When combined with a new exhaust system, the latest and greatest Roush pumps out 670 hp and 545 lb-ft of torque.
Alongside the engine and exhaust modifications, the 2015 Roush Mustang Stage 3 has been fitted with single-adjustable coilover suspension but a 3-way adjustable system is also offered. Elsewhere, the Roush Mustang Stage 3 is adorned with an aggressive and bespoke bodykit incorporating new front and rear bumpers and fascias as well as a bonnet featuring a prominent power dome.