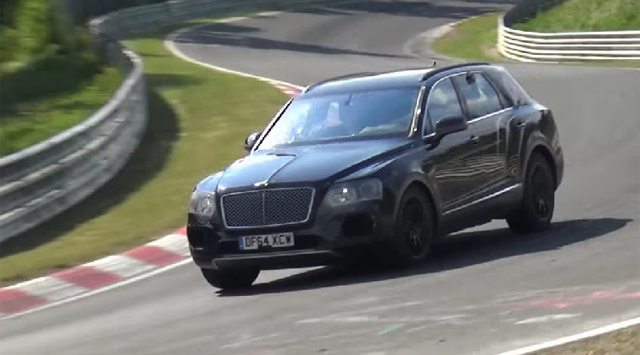 Not long after spy shots of the Bentley Bentayga emerged wearing very little camouflage, the luxurious SUV has just been filmed hitting the famous Nurburgring race track in Germany for the very first time.
Engine options for the Bentayga remain far from confirmed but it is speculated that the firm's customary 6.0-litre W12 will be available as well as the twin-turbocharged 4.0-litre V8 alongside the diesel. That diesel is speculated to be the 4.2-litre V8 set to be available for the recently released 2015 Audi Q7. Additionally, a plug-in hybrid version will be available.
[youtube]https://www.youtube.com/watch?v=hpxjA9qPbl8[/youtube]
Not too long ago, it was confirmed that the bodies of the Bentley Bentayga will be built at the Volkswagen Group's Bratislava plant in Slovakia. Final assembly will then be handled by the marque's plant in Crewe, England.
Visually, it is obvious that the Bentayga will be characteristically Bentley with a prominent front grille. Hiding beneath the camo are also quad headlights as featured throughout the existing Bentley range. This particular prototype also features differently coloured side skirts and rear bumper while the rear end is characterised by a subtle rooftop spoiler and oval exhaust pipes.
Beyond the exterior design, a recent teaser video of the car's interior showed it will include a night vision system as well as a digital gauge cluster. Additionally, the Bentley Bentayga will make use of an advanced heads-up display as well as a touch sensitive start/stop button. Plush leather and a number of wooden accents will also be found.