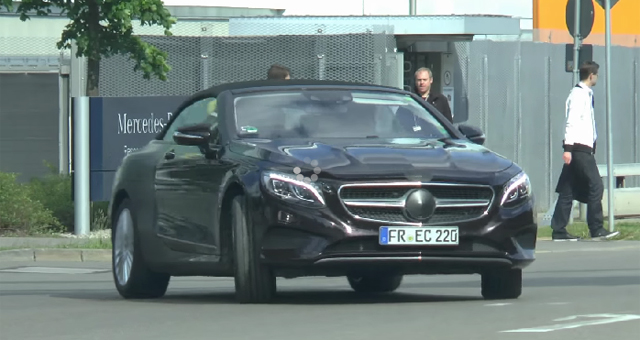 The upcoming Mercedes-Benz S-Class Cabriolet has been spied in the midst of testing once again. This particular S-Class Cabriolet prototype was spotted outside a Mercedes-Benz research and development centre and has been adorned with very little camouflage.
As a matter of fact, the front-end of the following tester is completely sans-camo therefore giving us a thorough look at its front-end. Unsurprisingly, it remains essentially unchanged from the S-Class Coupe. Meanwhile, the rear of the test mule did feature some light plastic camouflage and it appears to be hiding taillights very similar to the S-Class Coupe.
[youtube]https://www.youtube.com/watch?v=qSL47U9hFRA[/youtube]
Interestingly, the Mercedes-Benz S-Class Convertible is pinned to be based round the Mercedes-Benz Ocean Drive Concept from way back in 2007. Unlike the Ocean Drive however, the S-Class Convertible will be a two-door in a similar vein to the S-Class Coupe.
This will be the first time the S-Class has ever been available convertible configuration and when the car does launch, it will essentially be in a class of its own with the less technically advanced Bentley Continental GTC and Rolls-Royce Phantom Drophead Coupe and upcoming Rolls-Royce Dawn being its closest rivals.
The Mercedes-Benz S-Class Convertible will complete the S-Class lineup as the 6th model following the S-Class Limousine in Short- and Long-Wheelbase, S-Class Coupe, Mercedes-Maybach S-Slass and the recently revealed S-Class Pullman. The S-Class Convertible will feature the same engine line-up as its coupe sibling, meaning it will be available as the V8 powered S500 and S63 Convertible at launch.