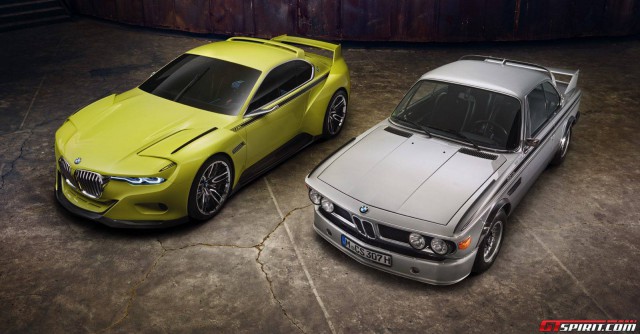 BMW usually have something special in reserve for the Concorso d'Eleganza Villa d'Este. This year the German manufacturer presents the new BMW 3.0 CSL Hommage. It pays tribute to the classic 3.0 CSL, of the 1970s. The retro look fits right into this high class concours event.
The BMW 3.0 CSL Hommage is designed as a lightweight sports car. The words "CSL" stand for "Coupé Sport Leichtbau" (coupé, sport, lightweight). The components fit the image, it gets a lightweight aluminium bonnet, boot and wings. BMW have opted for Plexiglas windows and stripped the equipment back to the bare essentials.
The classic BMW 3.0 CSL shed around 200 kg over the standard version. Carbon fibre helps to achieve a compatible philosophy. Whereas the CSL historically achieved its weight reductions with extensive aluminium components, the Homagge model makes use of carbon-fibre-reinforced plastic (CFRP).
The BMW 3.0 CSL Hommage gets unique styling. BMW didn't want the finish product to follow the classic design too closely. Nonetheless, the Hommage gets an elongated body with distinctive air deflectors, powerful wheel arches and prominent spoilers to the roof and tail. The front air deflector vents the engine compartment, while wings over the rear wheels optimise airflow.
Traditional side-view mirrors have been shunned in favour of small rear-view cameras. They are said to further reduce aerodynamic drag. The BMW 3.0 CSL Hommage wears the original colour of its spiritual predecessor – Golf Yellow.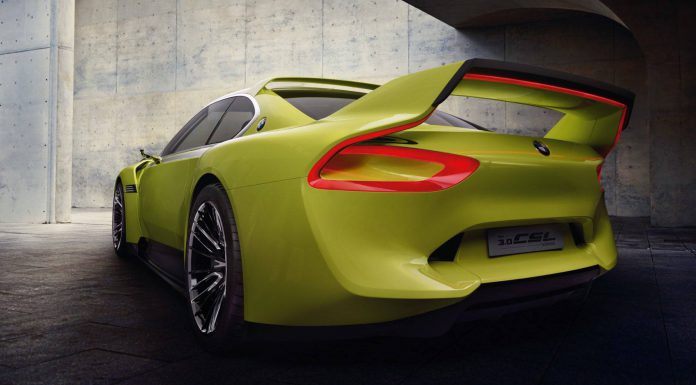 Towards the front of the Hommage concept sits a BMW kidney grille, purposely designed with a more upright design to emulate the styling of the kidney grille of yesteryear. Front lighting uses laser light and LED technology for the daytime running lights. The two circular openings at the front add an interesting look.
Very little has been said about the power unit powering the BMW 3.0 CSL Hommage, however, we are lead to believe it features a six-cylinder in-line engine with eBoost. The Homage also gets a set of bling 21″ alloy wheels finished in matt black and high-gloss bi-colour.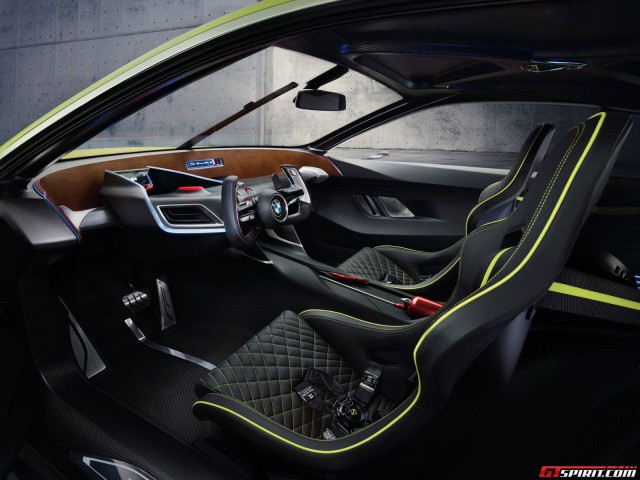 As we've mentioned above, the interior is pared down to a minimum. It's an all-CFRP affair, the only wood-like presence is the "instrument panel" – a cross-member and purely structural element. There is a small central eBoost charging display running through the wooden instrument panel. A central display on the steering column displays the current gear, speed, revs and shift point. 
Adrian van Hooydonk, Senior Vice President BMW Group Design said:
"Our Hommage cars not only demonstrate how proud we are of our heritage, but also how important the past can be in determining our future. The BMW 3.0 CSL Hommage represents a nod to the engineering achievement exemplified by the BMW 3.0 CSL in its lightweight design and performance. With intelligent lightweight construction and modern materials, the 3.0 CSL Hommage brings the character of that earlier model into the 21st century, showing it in a new and exciting guise."