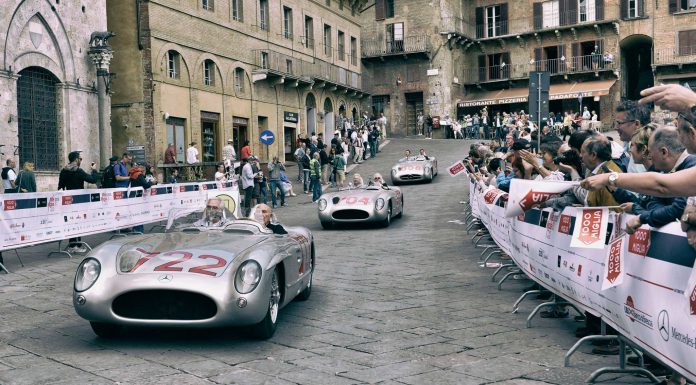 Mille Miglia 2015 ends today and we are pleased to bring you our final Mille Miglia 2015 Live Blog with all the latest updates, photos and videos from our team embedded with Mercedes-Benz in this years event and our photographers at the various checkpoints. Access the complete Day 1 coverage , Day 2 Coverage and Day 3 Coverage here!
We will update this live blog as it happens but make sure to also follow our social media updates on Twitter, Instagram, Google + and Facebook for more Mille Miglia 2015 and exclusive behind the scenes updates!
Impressions from the Final Day Mille Miglia 2015
http://www.youtube.com/watch?v=yWYesdqbrZ0
Mille Miglia 2015 Route
Just like the original Mille Miglia, the tribute starts in Brescia and goes via Rome back to Brescia. In total the 2015 route is a bit over 1,000 miles. More information can be found in the detailed route.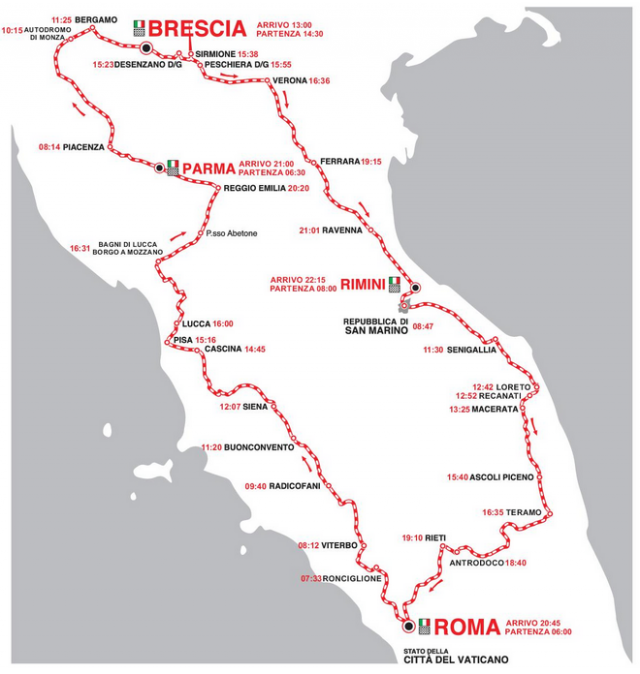 Mille Miglia 2015 Participants, Cars & Teams
Over 440 teams from over 40 countries take part in the Mille Miglia 2015 tribute. Eligible cars include only brands and models that took part during the original Mille Miglia between 1927 and 1957. Mercedes-Benz is the most dominant brand this year with over 70 Mercedes-Benz models taking part, most of them 300 SL models. For more information and all participant names and cars visit the Mille Miglia 2015 participant list.
Some of our highlights include the Bugatti Type 35B, Jaguar D-Type, Ferrari 340 America Berlinetta Vignale and of course the Mercedes-Benz 300 SLR that is promised to make various guest appearances at several checkpoints with Sir Stirling Moss behind the wheel! Generally all major manufacturers are represented in this momentous event.
So far we have driven from Brescia to Rimini marking the end of Day 1; then from Rimini to Rome marking the end of Day 2 before proceeding to Parma – a city in Emilia-Romagna famous for its Cheese – where Day 3 came to an end. Today we shall drive back to where we started in Brescia, a shorter distance with the first car expected to arrive by 1 pm. The Mercedes-Benz and Ferrari Mille Miglia Tribute teams will probably arrive there earlier as they are not part of the actual race. On arrival, all shall proceed to lunch at the Museum of Santa Giulia before the final awarding ceremony which will be held at the Teatro Grande from 6:30 pm.
Mille Miglia 2015 Final Day Live Blog
Update: Sunday May 17 – 4:00 pm
A photo from the ongoing prize giving ceremony for the Mercedes-Benz Mille Miglia team.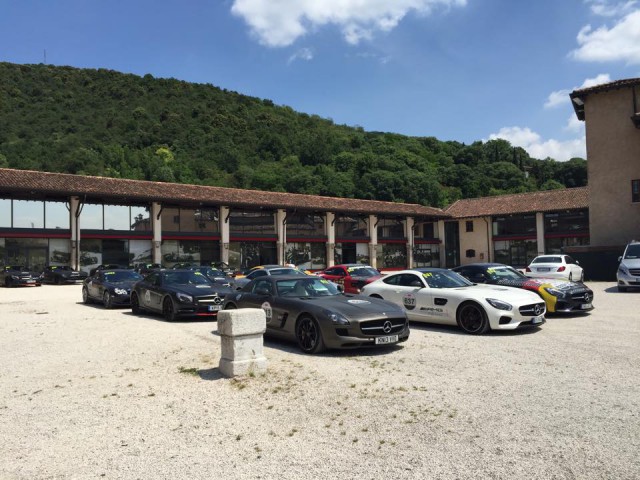 Update: Sunday May 17 – 1:58 pm
A few more photos from the Mille Miglia Museum where we are having lunch including one of Sir Stirling Moss at the podium stage with the #722 300 SLR.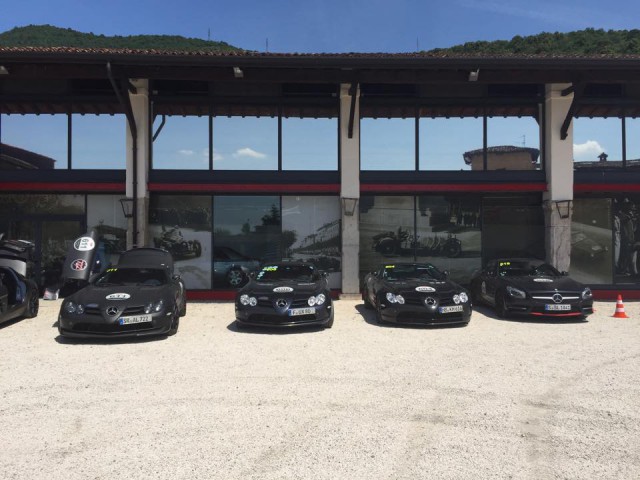 Update: Sunday May 17 – 12:44 pm
We have safely completed the 2015 edition of Mille Miglia, lots of new memories created after the 1000 plus miles that we covered during the four days. It was an honor meeting and witnessing some of the greatest motoring legends in action – some of whom we met for the first time.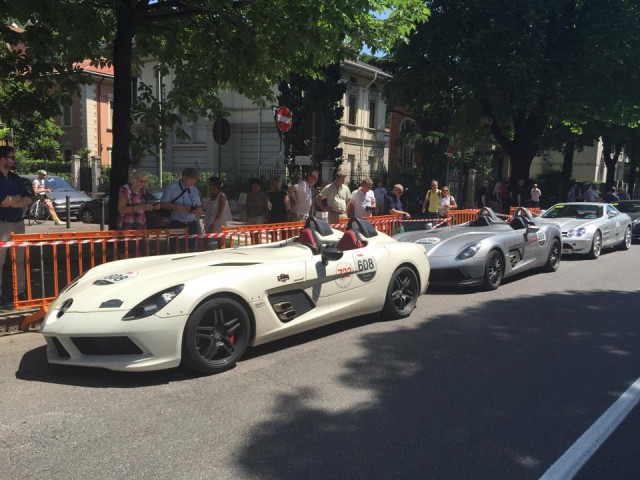 We would like to thank Mercedes-Benz for giving us this unique opportunity which every car enthusiast would love to be part of, we have also come to love and adore the SL 500 Mille Miglia Edition car that has been part of us for the last four days. Words are not enough, pictures don't do it justice but the memories will surely live forever. Lastly we would like to thank our fans and readers who followed us via the four live blogs, you are also part of our memories!
Update: Sunday May 17 – 12:30 pm
We have arrived in Brescia! It's been amazing! Wonderful cars, so many fans and people by the road today… it was just unbelievable! We are now waiting for the classic cars to arrive and thereafter proceed for lunch at the Mille Miglia Museum, the day will end with an award ceremony.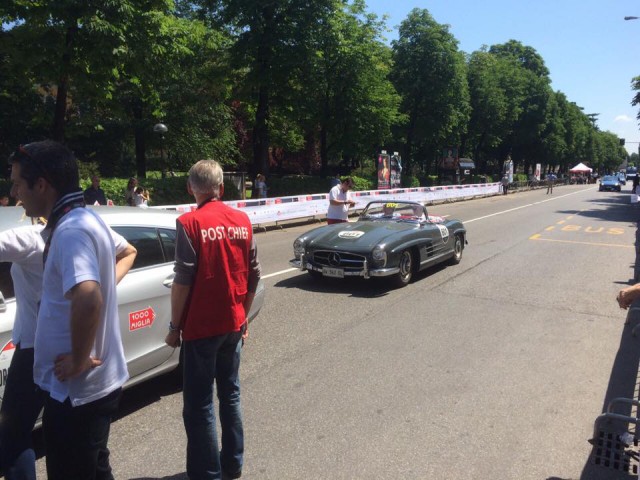 Update: Sunday May 17 – 10:53 am
We have arrived at the Bergamo checkpoint now, the crowds are crazier than Parma!!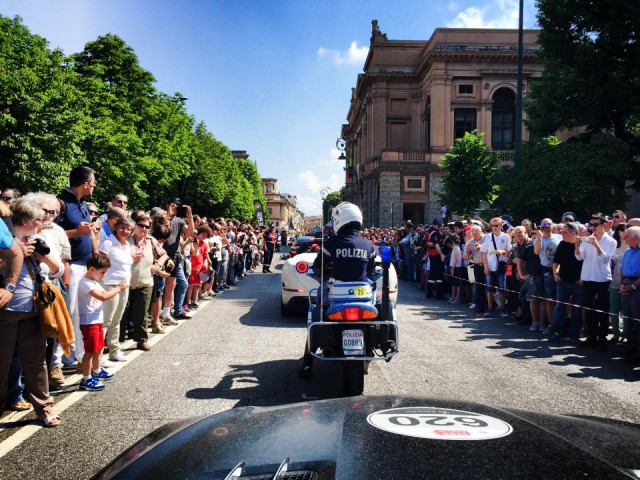 Update: Sunday May 17 – 09:44 am
We are now in Monza! Here we shall participate in different time trials at the circuit. There are so many Ferrari's at the track including two LaFerrari's. Below are a few photos from the track.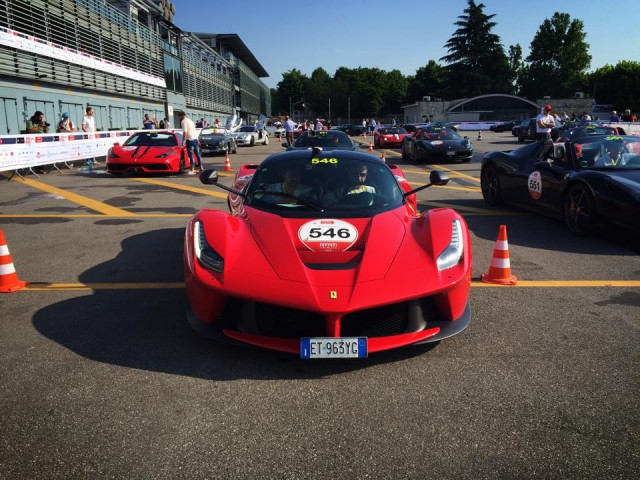 Update: Sunday May 17 – 07:44 am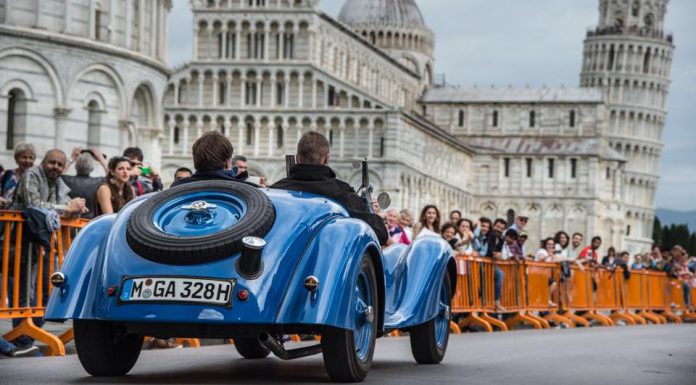 A look at what the field looked like behind us yesterday. Starting with Mercedes-Benz led by the iconic #722 300 SLR car of Sir Stirling Moss, they brought the crowds alive in Tuscany where all the three 300 SLR cars drove through the streets. BMW continues to journey on with their Mille Miglia team and classic cars joined by some modern entities including the BMW i8. Lets see what the day has in store for all of us today!
Update: Sunday May 17 – 05:44 am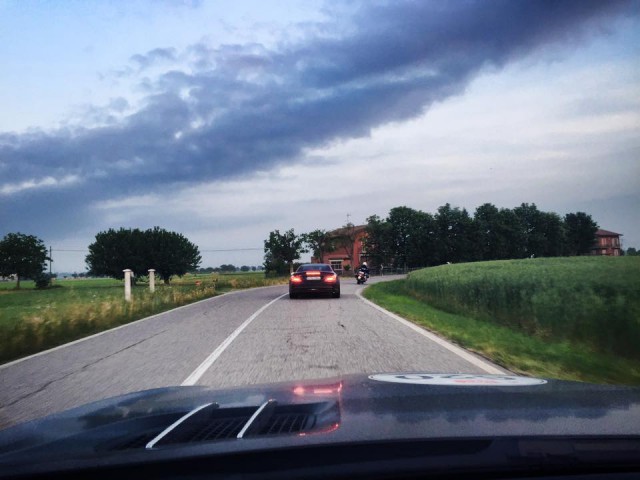 Good Morning and welcome to the final Live Blog of the Mille Miglia 2015. We crossed the Parma start line at about the given time, our first major stop will be at Monza in about 3 hours and 40 minutes. As we left Parma, we were waved by our first crowd of four- drunk teens who had just left the club! The weather looks good this Sunday morning as we drive towards Piacenza.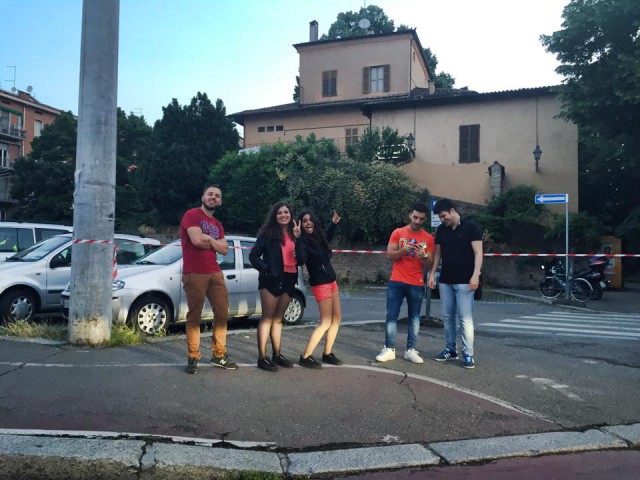 At around 6:21 am we arrived at the first time trial of the day in a very small town called Villanova.