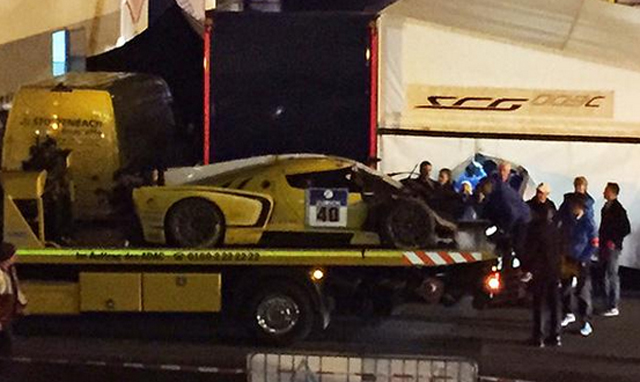 You might have noticed that only one SCG 003C started the Nurburgring 24 Hour race this weekend. The other SCG 003C car had an incident during practice on Thursday which rendered it unusable for the weekend. A video of the accident has now emerged which we are able to share with you, fortunately the driver managed to walk away without injury.
The accident happened at Kesselchen when SCG 003C lost traction at 200 km/h. The SPX racer was piloted by Ken Dobson at the time of the accident. Conditions were wet and dark at the time. Dobson took quite a big hit.
Fortunately the second SCG 003C was more successful in navigating its way to the start line. At the time of writing it was running 38th after a prolonged spell in the pits.
The Scuderia Cameron Glickenhaus SCG 003C is fitted with a Honda 3.5 litre twin turbocharged V6 delivering 530 bhp at 6800 rpm and 516 lb ft torque at 4500 rpm. We are told that the damage to the number 40 car is repairable, just not in the time frame required for qualifying on Friday.
So far, the battle seems to be between the BMW Z4 GT3 and the Audi R8. Running close to the two front runners is the Porsche 997 GT3 R and Mercedes-Benz SLS AMG GT3.
[youtube]https://www.youtube.com/watch?v=kYCOYojhWHI[/youtube]