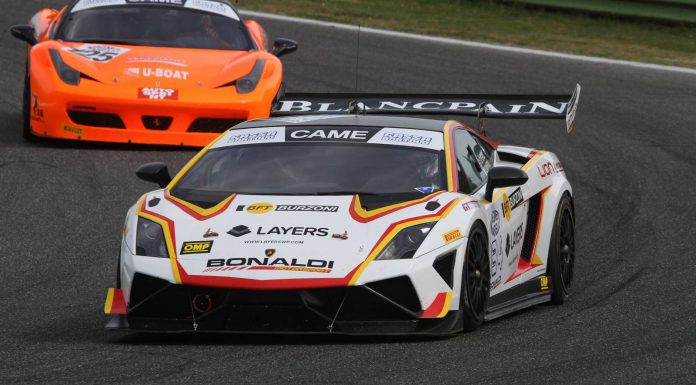 It goes without saying that it's an honour to wear the Lamborghini badge on your race suit. Leading up to the first round of the Italian Championships I made sure to prepare as best as I could. I'd wake up at 6am every morning and do at least one hour of simulator work. Then after 'real' work, I'd go for a 6-10km run depending on the light of day.
I am more used to seasons starting around February / March, not early May. A lot goes through your mind during the build up to a big race, especially one which starts so late in the year. You wonder how rusty you may be, if you still have what it takes, or are you fit enough etc.
Luckily I was able to fly to Italy three weeks before our race in Vallelunga to do a very important test with my team, Lamborghini Bonaldi Motorsport. They are a super experienced operation with four of Lamborghini's nine pro-drivers coming through their team. It's a huge opportunity for me and the pressure to perform was huge.
It would be the first time in my career that I'd be doing a proper two day test and luckily it all went to plan. I have never raced at any of the tracks we are competing at this year, so to get two days of testing under my belt was invaluable.
A GT race weekend is incredibly tough. You only have two 50 minute practice sessions which you have to share with your co-driver and during that time you'd be surprised how little track practice you get. To make matters worse, the next time you drive the car is in qualifying, so you have to be on your game from the moment free practice one starts.
Because this was my first year in GT racing the team did not have high expectations however, the moment we hit the track, we were fast. We ended FP1 4th quickest and FP2 went even better with the second best time of the day. Everyone, including myself, was surprised!
The next day was qualifying and race one. Qualifying is always incredibly intense because the tyres we use are designed to give their fastest time within the first three laps of their cycle. That means that you cannot go around and around like you do on Playstation and get into a groove. You have to be in that groove the moment you get in the car.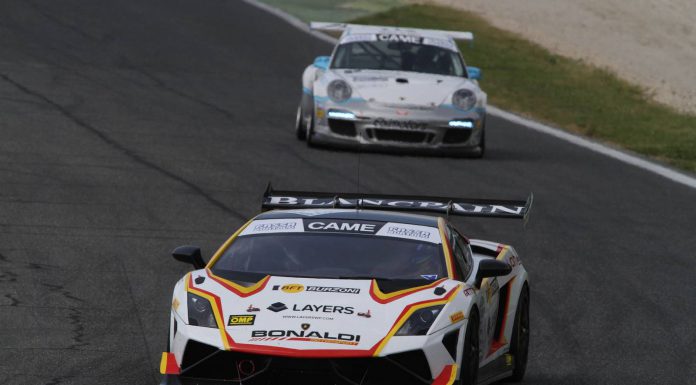 The Italian GT Cup is filled with Porsche GT3's and during Friday practice they had a 10 kph advantage over us on the straights. With that in mind we didn't expect to get pole position but were hoping for a top three.
Because I was the fastest driver in my team I went out first. My first lap was not great as I'd never experienced the format before but on lap 2 I was only 2/10ths behind pole position. The team immediately came on the radio and told me to push as hard as I could for my third lap. I did what I could but fell short but 1/10th of a second. Nonetheless we had done more than expected and qualified 2nd on the grid. A great result on debut!
Three hours later we were on the grid for race one. I tried my best to stay calm but I won't lie, my stomach was in knots! My start wasn't great and I dropped to 3rd but by lap 5 I moved back into second with a great move on a Porsche when approaching turn 2. He had the pace on the straights but my Lamborghini was much more superior under braking, so when he made a mistake through the 220kph turn one I was able to get along side him and take the place on the inside.
By now the leader had pulled out a 6.5 second gap but lap by lap I managed to close him down and by the time our pit stop came around, I'd closed it to just 3 seconds. I wanted to try go faster but the team kept reminding me that I should save the brakes and the tyres for my co-driver, Mirko Zanardini.
In the Italian Championships it is compulsory that each car is shared by two drivers. In my case my co-driver was very experienced and also very close to my lap times. This was a great advantage for us because the leaders second driver, Steven Goldstein (Force India reserve driver), was not as quick this weekend. That meant that even though we pitted with a 3 second deficit, we had the pace to overtake them after the driver change.
Happily this is exactly what happened and from then on we pulled away and won our race by 20 seconds. This would be the first time I'd won a race in Europe and the relief was immense. So much preparation had finally paid off!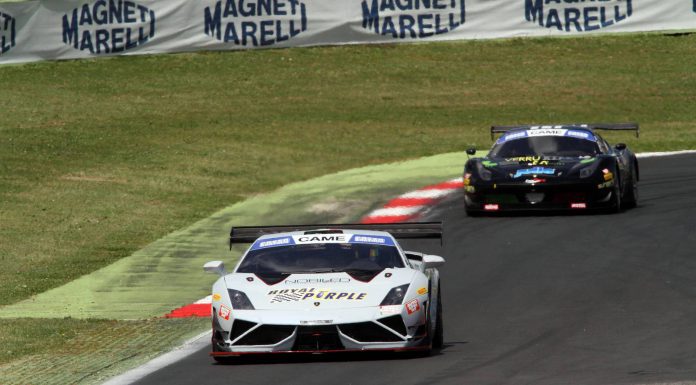 The following day we'd do our second, and final, race of the weekend. This time Mirko would be starting (from pole position!) and I'd get in the car after the first pit stop. The crazy thing about that is that there is no warm up or practice on the final day of racing which meant that the first lap I'd do on the day was exiting the pits… directly into the race. In order to prepare I watched our onboard videos from the day before and warmed up by running up and down the pit lane.
When Mirko came in for his pitstop we were in third place. We were having gearbox issues which was costing us time on the straights and to add to that we also had a 15 second 'handicap' that had to be served during our pit stop.
In the Italian GT Championship the podium finishers are handed a time penalty for the next race. First place gets 15 seconds, second get 10 seconds and third gets 5 seconds.
When Mirko entered the pits we were 5 seconds down in third but with our performance handicap it meant that when I left the pits we were 20 seconds behind! As I left the pits we had dropped to 6th place but knowing we had a pace advantage I put my head down and pushed like crazy. As mentioned earlier we had some technical issues but we still managed to lap almost a second quicker than the rest of the field.
Slowly but surely I picked up places and with 6 minutes left in the race I was in third place and had the leaders in my sight. They were only one corner away and were fighting like crazy for the lead. Approaching the final two corners the second place Porsche made a move for the inside which tapped the leader into a spin and opened the door for me to take second place at the final corner!
Our first and second place finished in each race mean we now lead the Championship. To say I am happy is an understatement. The next race is in Monza on May 29 and I hope to bring GTSpirit and Lamborghini fans more behind the scenes coverage via my Instagram and Facebook accounts.
Reported by David Perel – Lamborghini Bonaldi Motorsport winning driver.