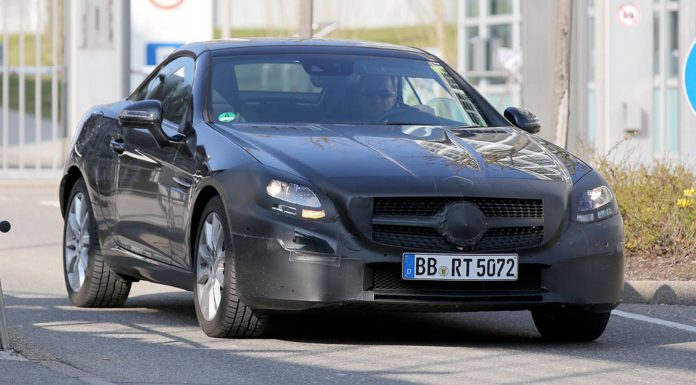 According to new reports, the order books for the brand new Mercedes-Benz SLC will be opened in December. The car will essentially be a facelift to the outgoing SLK sports car with the new SLC badge reflecting Mercedes-Benz's updated nomenclature. As such, all variants will start with SLC including the eventual next AMG derivative.
Engine wise, the Mercedes-Benz SLC is tipped to be offered with the same range of engines as the current SLK. With that being said, a new twin-turbocharged 3.0-litre V6 will reportedly be offered for the SLC AMG Sport variant and pumping out around 360 hp and 382 lb-ft of torque. The range-topper will ditch the SLK55 AMG's 5.5-litre V8 in favour of the firm's new 4.0-litre twin-turbocharged V8.
From a visual standpoint, spy shots have shown that the car will adopt a different front fascia incorporating a restyled grille as well as a new pair of headlights. Tweaks will also be made to the rear with it set to feature different taillights, a new bumper as well as modified exhaust tips. Before the Mercedes-Benz SLC hits the market, the interior will also be tweaked.
[Via Mercedes-Benz Passion]