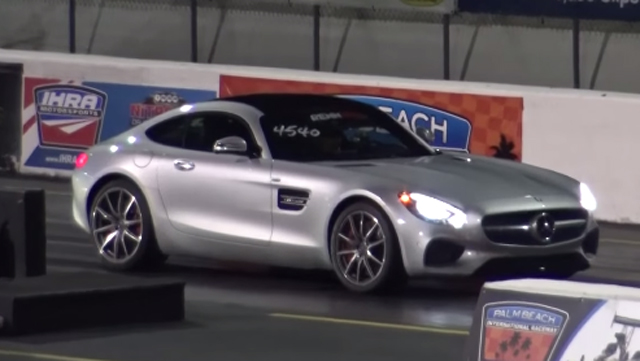 Despite being less powerful, the Mercedes-AMG GT S is 1.5 seconds faster around the Top Gear test track than the mighty Mercedes-Benz SLS AMG Black Series. Just how does the German marque's range-topping sports car perform in a straight line however? Well thanks to the following clip, we now know.
[youtube]https://www.youtube.com/watch?v=1Dyz0YBliWw[/youtube]
The following silver AMG GT belongs to tuning company RENNtech and at the time of this video, was completely stock. It manages to sprint down the quarter mile in a barely believable 11.2 seconds at a trap speed of 204 km/h. That puts it in lie with the Chevrolet C7 Corvette Z06 which pumps out about 150 hp more than the AMG GT.
The most incredible thing about all of this is that the AMG GT S is just the starting point. The AMG GT family is set to grow exponentially with higher performance models at the top of the German firm's agenda.