A special C111 exhibition has been launched at the Mercedes-Benz Museum, paying tribute to the iconic 45-year-old Mercedes-Benz concept car that is still sensational today. And the stunner stayed a concept, never for sale.
Just as the recently unveiled Mercedes-Benz F015 Luxury in Motion showcases technology of our near future, the super futuristic C111 supercar created in 1969 was a rolling laboratory exploring chassis and bodywork construction and powertrain for future decades.
The gullwing doors trademark created for the 300 SL were further evolved in a body made of fibreglass reinforced plastic, riveted and glued to a steel frame floor. Pop-up headlights kept the nose sleek and low while a mid-rear mounted four-rotor Wankel engine produced 350 hp at 7,000 rpm and 392 Nm torque from 4,000 to 5,500 rpm for performance of 0-100 km/h in 4.8 seconds and 300 km/h top speed – all impressive today!
Autocar said: "1969 will go down as a special year for Mercedes-Benz. Rumours had been circulating for a long time that the inventor of the motor car was working on a sensation. At the International Motor Show in Frankfurt the secret was finally revealed – and it really is a sensation: the C111, a super sports car with gullwing doors and a Wankel rotary engine.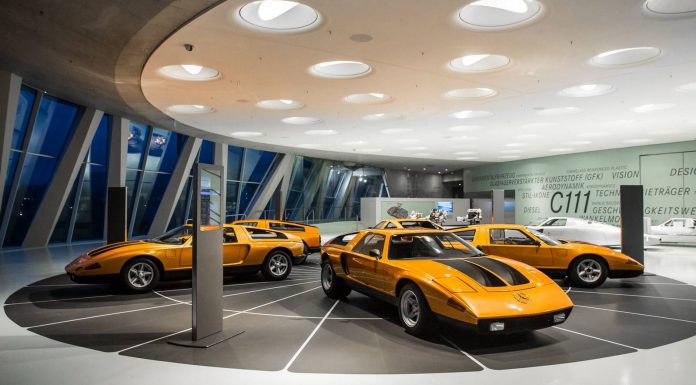 "The industry was dumbstruck, the press couldn't get enough of it and the public were bowled over. Not long after, in the spring of 1970, the even more attractive and even more powerful variant of the C111 experimental vehicle was unveiled – and it quickly became the unrivalled dream car of an entire generation."
Under the headline "An exclusive Wankel torpedo", Linzer Volksblatt, 23 August 1969, said: "The C111 epitomises the special inventiveness and passion of the Mercedes-Benz designers and engineers. Their mission: to come up with the superlative sports car.
"Solid roadholding is assured by the chassis, which is up to motorsports standard and has impressed even professional racing drivers. The second version of this 300 km/h thunderbolt is propelled by a 350 hp (257 kW) four-rotor Wankel engine. Its turbine-like characteristics and incredible output figures make this vehicle concept perfect. Mission accomplished."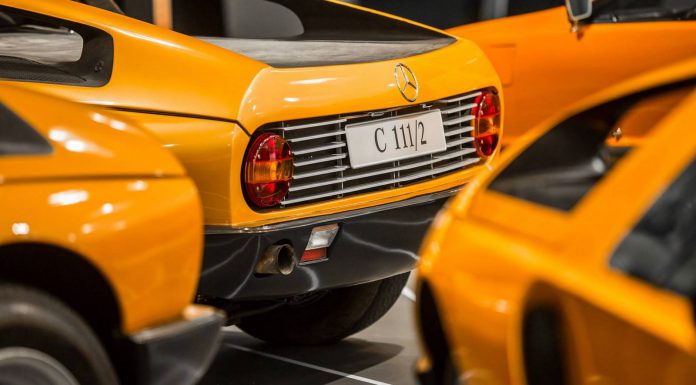 And 'DAZ' reported: "Together with its distinctive orange metallic paint finish, its design idiom is that of the super sports car. The vehicle interior is more functional, but no less striking for that: contoured bucket seats, a well-arranged dashboard and countless display instruments make it clear that the driver is truly in control here."
Discover the unique design icon from 1969 at the Mercedes-Benz Museum until 15 November 2015.