It's been an uneventful winter in Calgary, Canada – with all the city's supercars put away before snowfall, there have been few exciting cars out on the roads. But that just changed! The Ferrari Club of America Alberta Chapter and Porsche Club of America Wild Rose Region just hosted their first Euro Cars & Coffee event of the year, and what a superb group of cars and owners turned up!
The numerous Porsches and Ferraris occupied a significant chunk of the parking lot in the Marda Loop district where the weekly cars & coffee event is held.
From a brand new Lamborghini Huracan to a vintage 55hp Renault Caravelle, there were plenty of unique rides to gawk at.
The Porsche club saw members bring everything from 996 and 997 body-style 911s to a brand new 991 GT3 and a 997 GT2 RS. The Ferraris in attendance ranged from a Ferrari F430 to numerous 308 and 328s and everything in between.
One of the coolest cars on display was this Tunerworks Porsche 993 with an EVOMS-built intercooled motor producing what the owner says is 800+ hp!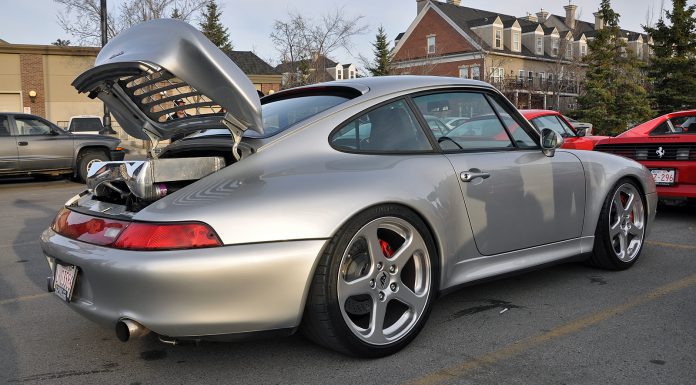 From an old Bentley to a new Lamborghini, the variety of cars in this 30 some-odd car display was jaw-dropping. Normally the first cars & coffee event isn't held until mid-May due to the imminent threat of snowfall, but this year's mild winter changed that. The high-horsepower machines were cut loose early this year!
Vintage car collector Fred Phillips brought his latest acquisition, a 50-year-old Renault Caravelle. The Renault, a two-owner car, came with an 1108 cc four-cylinder water-cooled engine mounted at the back of the car, producing 55hp to the rear wheels. Like many of Fred's cars, this one was designed by Ghia.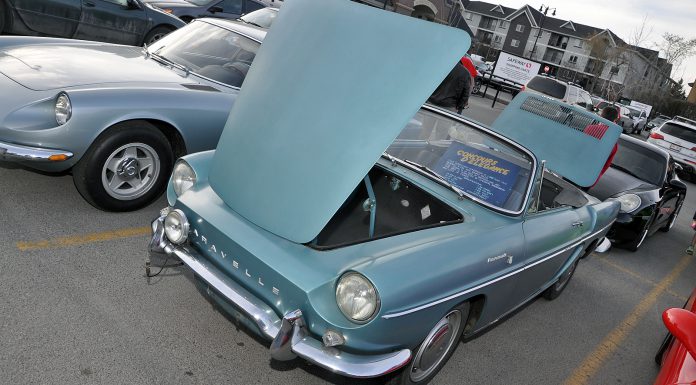 We're already looking forward to next week's Euro Cars & Coffee event! Bring on summer! For more information, please visit the Ferrari Club of America – Alberta Chapter on Facebook.