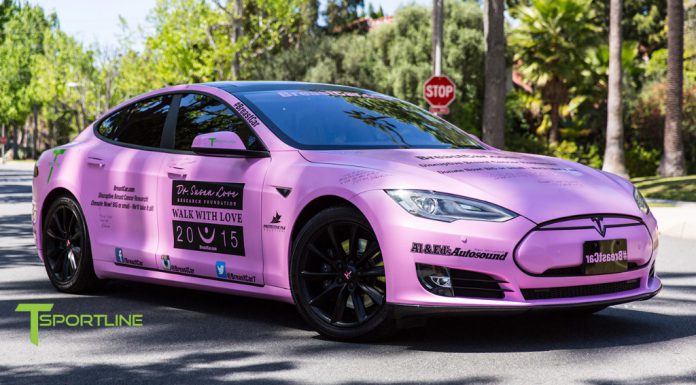 This pink wrapped Tesla Model S from California, dubbed the BreastCar, is raising money for Dr. Susan Love Research Foundation's innovative programs focused on the cause and prevention of breast cancer.
The brainchild behind the BreastCar, Woodland Hills-based OB/GYN Dr. Ian Taras, will be making appearances throughout Southern California now through the end of June.
To really make the Model S stand out, Taras reached out to T Sportline, the world's first Tesla tuner to supply its exterior carbon fibre sports package and a set of model TST wheels in a matte black finish to contrast against the matte pink wrap installed by Protective Film Solutions.
Al & Eds Autosound in West Hollywood, California's most renowned Tesla accessory center provided special interior accessories to add the final touch to BreastCar.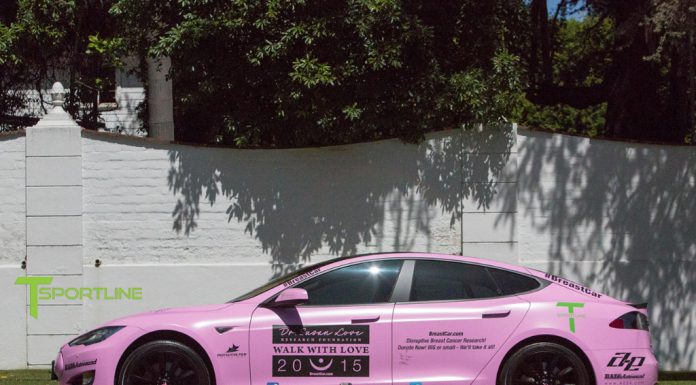 "Wrapping the car is symbolic of our need to focus more funding and effort on stopping breast cancer before it starts," says Taras. Patrons are invited to take photographs with #BreastCar, write messages of hope or encouragement, dedications to loved ones, or simply sign their names to the BreastCar.