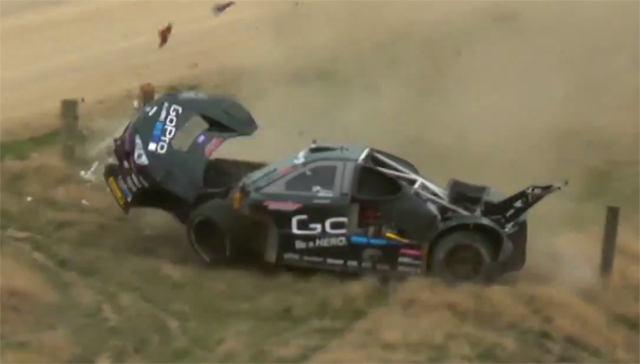 At the annual Race to the Sky hillclimb in New Zealand, Nobuhiro 'Monster' Tajima set out to claim the fastest time in his Monster Sport Super 86 Pikes Peak hillclimber. During the run however, Tajima's car suffered a catastrophic aerodynamics failure as it literally ripped itself apart.
[youtube]https://www.youtube.com/watch?v=7j2M6clYNxM[/youtube]
As the video above shows, when speeding along a high speed stretch of the Race to the Sky course, the skin of the roof and sides peeled off and in the process smashed into the massive rear wing therefore breaking it off the strong uprights.
The dramatic reduction in downforce immediately sended the Super 86 Pikes Peak racer into a slide before it speared off the gravel road and into the shrubbery next to the road. To add insult to injury, the front end of the car was then demolished after it made contact with a wooden fence post.
Thankfully, Tajima managed to escape the wreck without injury.