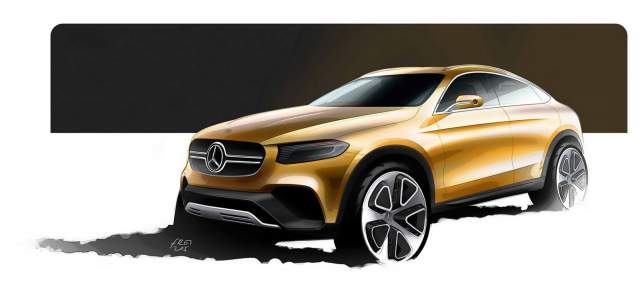 It has been confirmed that the Mercedes-Benz GLC Coupe Concept will debut at the Shanghai Auto Show 2015 this coming Monday.
Whereas the recently revealed Mercedes-Benz GLE Coupe directly targets the BMW X6, the new GLC Coupe design study will preview the German marque's upcoming rival to the smaller BMW X4. While sharing the GLC name, the Mercedes-Benz GLC Coupe will be smaller than the regular GLC and sit below the GLE Coupe in the firm's line-up. With that in mind, it will be underpinned by the same architecture as the W205-generation Mercedes-Benz C-Class.
As evidenced by the image, the GLC Coupe Concept is evidently a Mercedes-Benz with a prominent grille incorporating the brand's logo as well as sleek headlights and gaping wide air intakes. While it remains unclear how the four-door GLC will look as prototypes have only been spied with heavy camouflage, it seems evident that the GLC Coupe will be easily distinguishable with a selection of new body panels and not just the removal of two doors.
Beneath the skin, we can expect the same line-up of engines for the GLC Coupe as the GLC SUV. As such, engines including a small 1.8-litre petrol four-cylinder, 2.1-litre four-cylinder diesel and a hybrid powertrain are all likely.