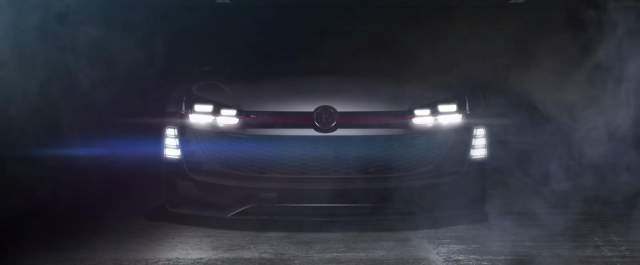 A number of teaser images and a video of the upcoming Volkswagen GTI Supersport Vision GranTurismo Concept have been unveiled. The car follows on from the German marque's GTI Roadster Vision Gran Turismo unveiled last year for the racing simulator, Gran Turismo 6.
Specific details about the Volkswagen GTI Supersport Vision Gran Turismo Concept have yet to be released, but it seems likely that it will adopt very similar exterior styling to the GTI Roadster concept albeit with a fixed roof. With that being said, a number of unique styling characteristics can be seen from the teasers.
For starters, the headlights appear entirely new with them incorporating LED diodes and it is a similar story for the daytime running lights located in between the front bumper and front splitter. An even more pronounced splitter than the GTI Roadster concept can be seen on the Volkswagen GTI Supersport Vision Gran Turismo concept. These changes are hardly surprising as the Supersport badge implies that the car will be even more insane than the German marque's creation from last year.
While the cars for the Vision Gran Turismo series are purely theoretical, the GTI Roadster concept was unveiled with a 3.0-litre twin-turbocharged six-cylinder engine making 503hp and 491 lb-ft of torque. Power was then sent to all four wheels thanks to a seven-speed DSG transmission. While it remains to be seen, it seems likely that the GTI Supersport concept has been imagined with the same engine.