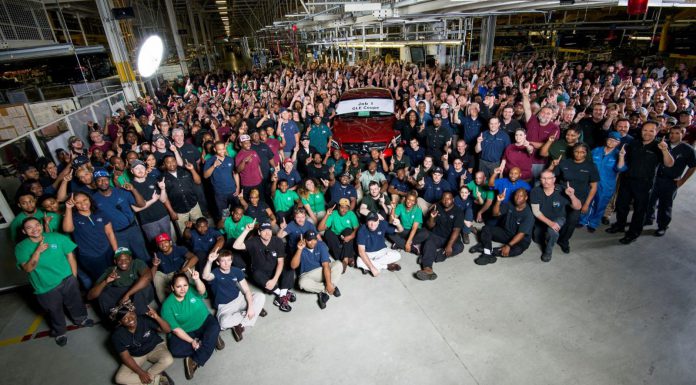 Production of the recently unveiled Mercedes-Benz GLE Coupe has just kicked off at the German automaker's production facility in Tuscaloosa, Alabama.
Discussing production of the GLE Coupe, member of the divisional board of Mercedes-Benz Cars, Markus Schafer said "The production launch of the GLE Coupé is an important milestone in our growth strategy. In 2015 we will renew almost our full SUV portfolio and have therefore built up our capacities in the U.S. Together with the C-Class, we will produce more than 300,000 vehicles in Tuscaloosa this year."
This was expanded on by president of chief executive of Mercedes-Benz U.S. International, Jason Hoff who said "For more than 20 years, we have been successfully building sport utility vehicles in Alabama for the world market. We have had three keys to our success here. First, we have an excellent partnership with the State of Alabama. Second, we are integrated in the global production network of Mercedes-Benz. And third, we have a fantastic workforce that continues to put in 100 % of effort every day."
Set to rival the BMW X6, the Mercedes-Benz GLE Coupe's design is heavily inspired by the Concept Coupe unveiled earlier in 2014. With this in mind, the car features a flowing roofline which stretches back to a steeply raked rear window and a relatively high tailgate.
The entry-level model is the Mercedes-Benz GLE350d 4Matic complete with a 258 hp and 457 lb-ft strong engine. Elsewhere is the GLE400 4Matic with a twin-turbocharged 3.0-litre V6 with 333 hp and 354 lb-ft as well as the GLE450 AMG Coupe with 367 hp and 383 lb-ft on tap. The range-topping Mercedes-AMG GLE63 Coupe then delivers 557 hp from its twin-turbocharged 5.5-litre V8 while the GLE63 S extracts 585 hp and 760 Nm from the same engine.
[showhide]
Mercedes-Benz Tuscaloosa Plant: Production of Mercedes-Benz GLE Coupé Starts in the U.S.
Start of new model series at the Mercedes-Benz Tuscaloosa plant
Markus Schäfer, Member of the Divisional Board Mercedes-Benz Cars, Manufacturing and Supply Chain Management: "The production launch of the GLE Coupé is an important milestone in our growth strategy. In 2015 we will renew almost our full SUV portfolio and have therefore built up our capacities in the U.S. Together with the C?Class, we will produce more than 300,000 vehicles in Tuscaloosa this year."
Jason Hoff, President and CEO of MBUSI: "For more than 20 years, we have been sucessfully building sport utility vehicles in Alabama for the world market. We have had three keys to our success here. First, we have an excellent partnership with the State of Alabama. Second, we are integrated in the global production network of Mercedes-Benz. And third, we have a fantastic workforce that continues to put in 100 % of effort every day."
Mercedes-Benz U.S. International, Inc. (MBUSI) today celebrated production of the first customer-ready all-new GLE Coupé. "The production launch of the GLE Coupé is an important milestone in our growth strategy. In 2015 we will renew almost our full SUV portfolio and have therefore built up our capacities in the U.S. Together with the C?Class, we will produce more than 300,000 vehicles in Tuscaloosa this year," said Markus Schäfer, Member of the Divisional Board of Management of Mercedes-Benz Cars, Production and Supply Chain Management, at the ceremony held to celebrate the production launch of the new model in the Mercedes-Benz plant Tuscaloosa (Mercedes-Benz U.S. International – MBUSI). The event was attended by numerous guests, including Alabama Governor Robert Bentley.
Mercedes-Benz has dubbed 2015 as the year of the SUV for the brand, with the majority of its SUV portfolio being renewed, including the model update of the GLE (former M-Class). The GLE Coupé is a completely new series of Mercedes-Benz. It combines typical attributes of a coupé with the versatility and robust nature of a SUV. Mercedes?Benz thus expects additional sales momentum in this year. In 2014, Mercedes-Benz Cars as a whole set new records with over 1.75 million vehicles produced and more than 1.74 million sold.
In March 2015, Mercedes-Benz increased its U.S. sales by 9.2 percent to 29,921 passenger cars and set a new sales record on monthly basis. Sales of C-Class increased by almost 35 percent to 7,635 units. In the first quarter, U.S. sales grew by 7.6 percent to 78,156 passenger cars. Worldwide sales of Mercedes-Benz in the first three months of 2015 increased around 14.8 percent to 429,602 units, making it the first quarter with the strongest sales in the history of Mercedes-Benz. The SUV models enjoy great popularity: Since the beginning of the year, sales grew by 31.9 percent to 107,321 vehicles.
"For more than 20 years, we have been successfully building sport utility vehicles in Alabama for the world market. We have had three keys to our success here. First, we have an excellent partnership with the State of Alabama. Second, we are integrated in the global production network of Mercedes-Benz. And third, we have a fantastic workforce that continues to put in 100 % of effort every day," says Jason Hoff, President and CEO of Mercedes-Benz U.S. International, Inc.
To date, Mercedes-Benz has made a $4.5 billion capital investment in the Tuscaloosa operations. Besides the models GLE and GL, Plant Tuscaloosa has built the C-Class sedan since 2014. Production of R-Class vehicles will be moved to the U.S. contract manufacturer AM-General in Mishawaka, Indiana, which will gradually free production capacities to be used for the SUV series. In 2014, MBUSI produced more than 232,000 vehicles.
"As part of our growth strategy, we are expanding our global production network and use additional capacities of our contract manufacturers as well. So we are increasing flexibility and efficiency of our production organization. Our global production standards guarantee the world-renowned high quality of our Mercedes?Benz vehicles, independent of their production site," said Markus Schäfer.
About the Mercedes-Benz GLE Coupé
Mercedes-Benz is combining two classes of vehicle – each with its own distinct style – to make a new model, the Mercedes-Benz GLE Coupé. The sporty nature of a coupé dominates, imbued with the striking characteristics of a robust SUV. In addition to convincing on-road vehicle dynamics, the GLE Coupé looks impressive as well. With its flowing side contour, elongated and low greenhouse, striking radiator grille with central chrome louvre and rear end design, the GLE Coupé cites styling features typical of particularly sporty Mercedes-Benz models. The GLE Coupé feels like a true sports coupé right from the word go. Despite the similarity to an SUV with its raised seating position and an all-round view that is expansive for a coupé, the occupants are led to believe that they are in sports rather than off-road mode. The sound is reminiscent of powerful sports cars and, combined with the spontaneous and direct response to all commands, is guaranteed to get your pulse racing. On the other hand, it can also create a superior feeling of calm, coupled with unshakably serene driving dynamics. These two different worlds can normally only be experienced in two separate vehicles – an agile, thoroughbred sports coupé and an easy-going, comfortable SUV. But the new GLE Coupé is different: DYNAMIC SELECT enables a wide spread in the driving dynamics and combines these diametrical worlds of experience in a single vehicle – an automobile premiere.
About the Mercedes-Benz Tuscaloosa plant
The Mercedes-Benz Tuscaloosa plant (Mercedes-Benz U.S. International – MBUSI) was founded in 1995 and started production of the M-Class in 1997. The plant added the R-Class in 2005, the GL in 2006, and the new C-Class sedan for the North American market in 2014. In 2014, the plant produced more than 232,000 vehicles. To date, more than 2.1 million vehicles have rolled off the plant's line for customers around the world.
About Mercedes-Benz Cars Operations
Mercedes-Benz Cars Operations is responsible for passenger car production at 26 locations around the world as part of a flexible and efficient production network involving more than 70,000 employees. This includes the central functions of planning, Technology Fab, logistics and quality. Mercedes-Benz Cars produced more than 1,754,000 Mercedes-Benz and smart passenger cars last year, marking the fourth record in a row.
The network is based on the product architectures of front-wheel drive (compact cars) and rear-wheel drive (for example the S-Class, E-Class, and C-Class) as well as the SUV and sports car architectures. In addition, there is a powertrain production network (engines, transmissions, axles and components). Each of these production networks is grouped around a lead plant that serves as a center of competence for the ramp-up of new products, technology and quality assurance.
The focus of day-to-day work is on the continuous improvement and refinement of state-of-the-art production methods, which allow future high-tech vehicles to be produced in a way that is efficient, flexible and environmentally friendly, according to the typical Mercedes-Benz quality standards. All of this revolves around the employees and their expertise, whose work is systematically supported by ergonomic workplace design and intelligent automation. In addition to its own production plants, Mercedes-Benz is increasingly leveraging partnerships and utilizing capacities at contract manufacturers as part of its growth strategy.
[/showhide]