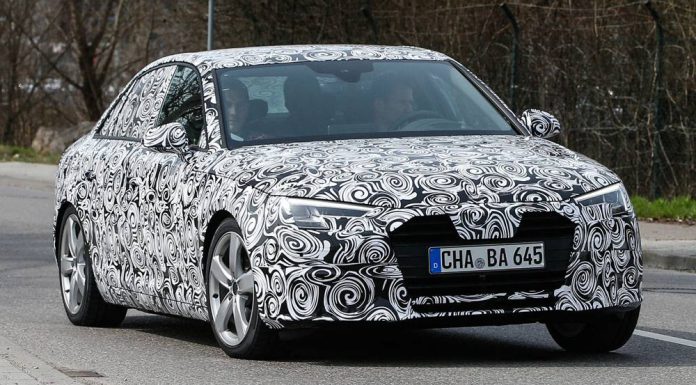 New 2016 Audi A4 spy shots have emerged with these latest ones showing a prototype wearing heavy camouflage but less than previous test mules. As a result, we can get our best view so far of the new A4's thoroughly revised design.
In the Audi A4 spy shots included, it is immediately apparent that the headlights have undergone a rather thorough redesign. As reported leaked images show, a section of the headlights has been removed compared to the existing A4 making for an ultra-aggressive and sharp design. New LED daytime running lights across the top and sides of the headlights can also be seen.
Elsewhere, the test mule is clearly sporting brand new taillights which are thinner than the current units. Due to the fact that they are completely free of camouflage however, there's a possibility that they aren't production-spec. Elsewhere but not immediately obvious from these spy shots is the fact that the new Audi A4 will also receive brand new bumpers both front and rear.
Engine wise, it is suggested that a 1.4-litre TFSI engine will be offered in 125 hp, 150 hp and 180 hp specifications. Elsewhere, the 2.0-litre TFSI will be available with 225 hp, 245 hp and as a hybrid delivering a total of 260 hp. The range-topping engine will then reportedly be a 3.0-litre TFSI with 272 hp.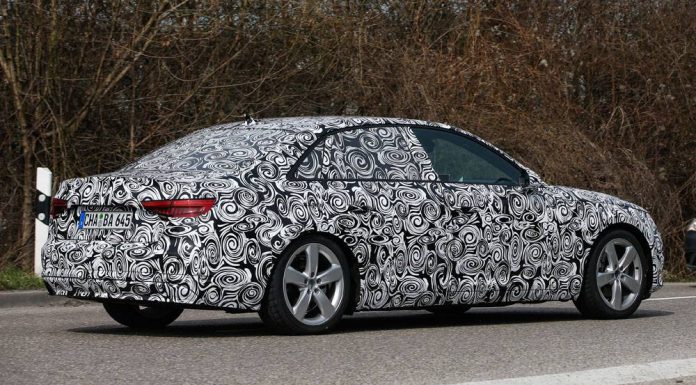 Elsewhere, a plethora of diesel engines will be made available with power of the entry-level 1.6-litre TDI sitting at 120 hp and the range-topping diesel 3.0-litre TDI with 218 hp. Finally, an Audi A4 e-tron with a 2.0-litre TDI and two electric motors making for a total of 326 hp is reportedly in the works.
The new A4 is expected to ride on an updated version of Audi's MLB platform called MLB Evo. This revamped vehicle architecture uses a combination of high-strength steel and aluminum, along with some composite materials, to ensure it is both stronger and lighter than the platform it replaces. The model expected to weigh at least 100 kg less than the current A4, largely thanks to its new MLB underpinnings.