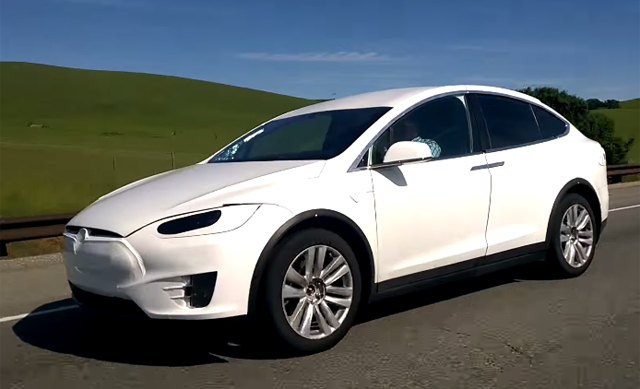 On the back of Tesla Model X spy shots emerging during the latest round of testing in Northern California, rolling footage of an all-white example has been posted online. It provides us with our best look at the production-spec Model X on the move before it is launched in the coming months.
[youtube]https://www.youtube.com/watch?v=TbZTc4wk-y0[/youtube]
For power, the Tesla Model X will be available with the same range of batteries as the Model S. Consequently, the base Model X will utilise a 60kWh battery pack delivering a total of 380 hp and capable of powering the world first electric SUV for over 300 km. Elsewhere, the Tesla Model X will be available with the slightly larger 85 kWh battery delivering the same power but providing slightly improved range.
Finally, the range-topping Tesla Model X P85D will be available with the same dual-motor system as found in the most expensive Model S variant. Consequently, it will produce 691 hp and have a range around 380 km.
Beyond the various powertrains, it has been confirmed that the Tesla Model X will feature seven seats and utilise the unique 'falcon wing' doors of the original Model X concept.