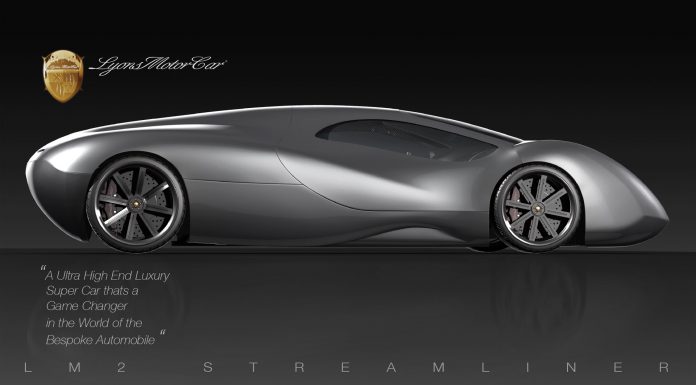 Prior to next week's New York Auto Show 2015 kicking off, an American supercar startup dubbed Lyon Motor Car has previewed its bold first-ever car set to debut at the show. The automaker's first supercar has been dubbed the LM2 Streamliner and it will try where many others have failed; to take the fight to the established marques with earth-shattering levels of performance.
Lyon Motor Car claims that powering the LM2 Streamliner will be a twin-turbocharged 8.2-litre V8 engine delivering a total of 1700 hp. That engine will be sourced from Nelson Racing Engines who are known worldwide for creating some of the most powerful engines. Mated to the engine will be a seven-speed sequential transmission driving all four wheels.
Thanks to these elements, it is claimed that the Lyon Motor Car LM2 Streamliner will accelerate to 96 km/h (60 mph) in a mere 2.2 seconds. The 160 km/h (100 mph) mark will then reportedly pass in 4.1 seconds while a quarter mile time of 8.8 seconds is being claimed. Alongside being ferocious off the line, the LM2 Streamliner will apparently be capable of reaching 466 km/h (290 mph).
[youtube]https://www.youtube.com/watch?v=WsVBNo9pe7w[/youtube]
Interestingly, the LM2 Streamliner (if it makes it to production) won't feature a standard chassis wiring harness. Instead, it will utilise a microprocessor-controlled electrical system which consists of just one wire transmitting codes around the car.
The car will also apparently feature carbon fibre and aluminium throughout its construction while making use of a 16-inch touchscreen in the cabin rather than traditional buttons, switches and dials.