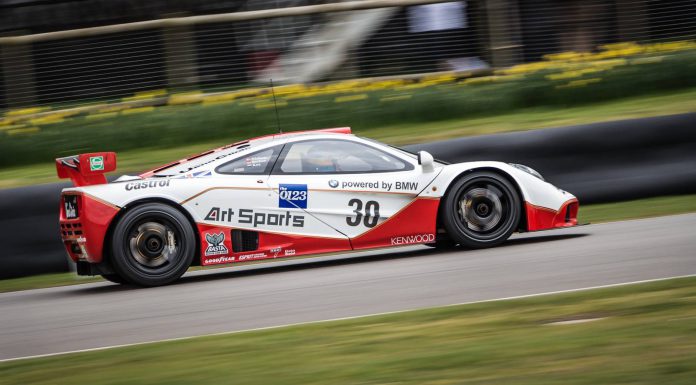 Goodwood's 73rd Annual Members Meeting is taking place this weekend. Among many highlights, Goodwood have arranged a unique display featuring a staggering 15 McLaren F1 GTR's! The racers are joined by the latest track-car from the McLaren stable, the McLaren P1 GTR. We had a day to spare so we went over to the famous West-Sussex race track to take a loo at the stunning collection!
Goodwood's excuse to gather such a display was the 20th anniversary of the McLaren F1 GTR that won 24 Hours of Le Mans in 1995. That year, McLaren entered all 7 of the GTR cars it had available and went toe to toe with Le Mans Prototypes. Chassis number 01R was the winning car, piloted by Yannick Dalmas, Masanori Sekiya, and JJ Lehto. It joined the McLaren Automotive Collection and was on static display at the 73rd Goodwood Members Meeting to celebrate.
Elsewhere, we saw a huge variety of other McLaren F1 GTR's on display, including rare and often-unseen examples. Among them was chassis number 02R, another 1995 24 Hours of Le Mans car which finished 4th overall. Now road-registered and wearing its original Gulf livery. We think the 5th place chassis number 07R was also on display following a change of ownership (and a new numberplate).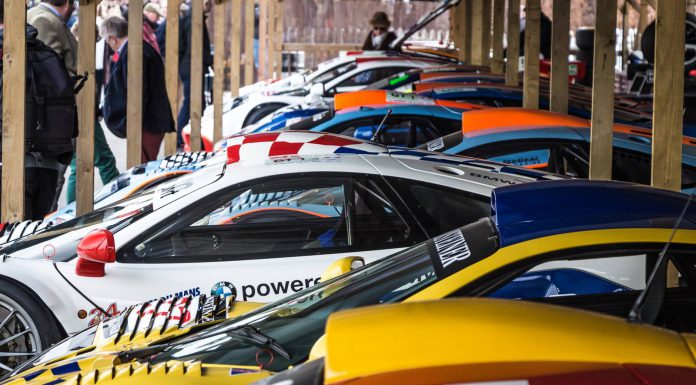 We also saw chassis number 03R, the car that came 4th at the 1996 24 Hours of Le Mans but failed to finish the 1995 24 Hours of Le Mans. The Harrods-liveried chassis number 06R was also on display, the car which came 3rd in 1995 and 6th in 1996. In terms of the cars that started that fateful race in 1995, we were missing chassis number 05R, the Cesar Liveried car which is occasionally spotted on the streets of London. We were also missing chassis number 08R which is believed to reside in Bahrain.
Five out of seven isn't a bad showing! Other 1996 cars included Nick Mason's chassis number 10R, the McLaren test car for that year. It wears blood red and yellow GTR livery. It did't take to the track unfortunately but Seven Tenths (the company which maintains it) started it up a few times in the paddock. BMW Germany also bought out their stunning 1997 3rd place 24 Hours of Le Mans car. Chassis 21R was on open display in the paddock and also took part in the on-track high speed display.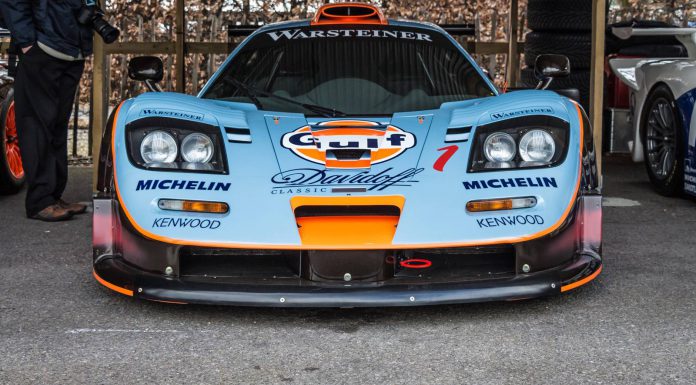 When it came to yesterday's on-track display, we counted eight cars out on track. Chassis number 03R was the hardest driven with Goodwood legend Kenny Brack at the wheel. Interestingly, 03R was modified from road car chassis 027 for David Price Racing ("West Racing"). Away from its DNF at the 1995 24 Hours of Le Mans, it did win three BPR Global GT Series before its conversion to 1996-spec for a further two BPR in 1996, 4th at the 1996 24 Hours of Le Mans.
Stay tuned for a full gallery of photos from the 73rd Goodwood Members Meeting!