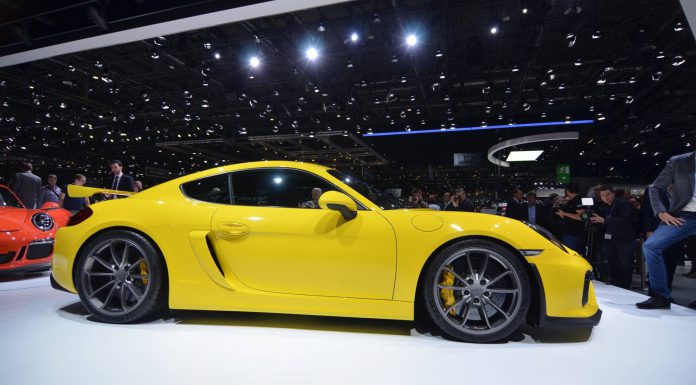 While it may have only just debuted at the Geneva Motor Show 2015, a prototype of the brand new Porsche Cayman GT4 was recently filmed hitting the German autobahn at night. Of particular interest of the Cayman GT4 in question is that it was fitted with an American style number plate as well as sidemarkers indicating that it is a U.S. spec model.
[youtube]https://www.youtube.com/watch?v=UhIWWa9xCq8[/youtube]
Towards the end of the clip, the driver of the Cayman GT4 does manage to quickly accelerate away from the car filming providing us with the perfect opportunity to hear its engine, borrowed from the 911 Carrera S, singing its characteristic flat-six symphony.
As a reminder, the mid-mounted 3.8-litre flat-six now produces 385 horsepower. 0-100 km/h (60 mph) is possible in 4.4-seconds and a 295 km/h (183 mph) top speed is now achievable. As with all Porsche products, the Cayman GT4 is also at home on the Nurburgring having recorded a blistering 7 minutes and 40 second time.
Beyond the uprated engine, the Cayman GT4 also receives a large fixed rear wing together with a reworked front facia and a new rear diffuser. With the new look and the increased performance, the Porsche Cayman GT4 becomes a very exciting proposition indeed! On paper it looks as though it does for the Cayman what the GT3 does for the Porsche 911.