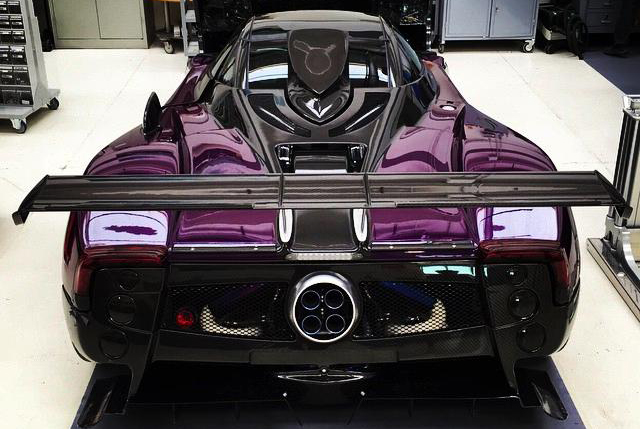 Yet another one-off Pagani Zonda for the street has been created as part of the ever-expanding 760 range of the Italian supercar. The car is officially dubbed the Pagani Zonda ZoZo and it incorporates a similar paint finish to Lewis Hamilton's 760 LH as well as taillights reminiscent of the 760LM.
The Pagani Zonda ZoZo was commissioned by Japanese businessman Yusaku Maezawa who founded a large fashion website in Japan called Zozotown. It is pinned to be delivered by Pagani's distributor to Japan, Bingo Sports.
These images of the Zonda ZoZo show that its purple paint scheme is similar to the 760 LH but unlike some 760-series models, the ZoZo doesn't feature a large aerodynamic shark fin connecting the roof scoop with the rear wing. Another interesting design element of the car is that the six rear taillights have been completely blacked out.
While the following pictures show the ZoZo fitted with bright silver wheels for testing, Prototype Zero believes that darker wheels will be fitted when the car is delivered. Another eye-catching element of the Zonda ZoZo are its purple brake calipers.
As with all other cars from the Pagani Zonda 760 range, the ZoZo's large naturally-aspirated 7.3-litre V12 engine pumps out 760 hp. Other Zonda 760 models include the Fantasma, 760 RS, 760 LH, 764 Passione, 760 LM, 760RSJX and the eye-catching 760 JC which we featured for the first time a month ago.
[Via Prototype Zero]