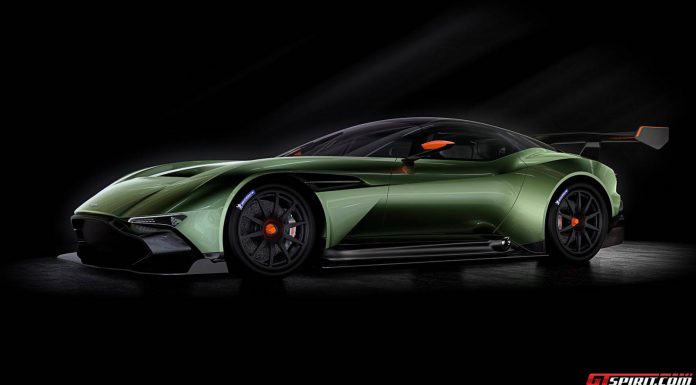 It has been confirmed that a special skunkworks location is being set up specifically to produce the potent Aston Martin Vulcan hypercar. The facility will be located in Warwickshire and a mere 24 examples will be created each priced at 1.8 million pounds.
Production of the Aston Martin Vulcan will kick off later this year and only a selection of engineers will have the opportunity to work on the car. Most of the components featured on the Vulcan will come from a selection of different specialists alongside a selection of components being produced and developed by Aston Martin itself.
Powering the Aston Martin Vulcan is an entirely new engine which holds the accolade as the world's most powerful naturally aspirated production engine and contrary to previous reports, it is unrelated to the Aston Martin One-77's 7.3-litre V12. In fact, it has been developed by Aston Martin Racing and is a V12 displacing 7.0-litres and delivering over 800 hp. Certain specifications about the engine remain unclear but it will reportedly help power the Aston Martin Vulcan to a top speed exceeding 320 km/h (200 mph).
The aforementioned 7.0-litre V12 is coupled with an Xtrac six-speed sequential transmission related to the system from the Aston Martin Vantage GTE race car. Drive is then sent through the rear wheels.
Underpinning the Aston Martin Vulcan is a carbon fibre monocoque similar to the one from the One-77. Compared to the tub of the One-77 however, 50 per cent of the Vulcan's tub is brand new and despite the reduced weight, it is also stiffer and now supports an FIA-approved roll cage. Suspension wise, the Vulcan utilises a pushrod system with both adjustable dampers and adjustable sway bars. Connecting the Aston Martin Vulcan to the track are 19-inch alloy wheels complete with custom 345/30 section Michelin tyres at the rear.
[Via Autocar]