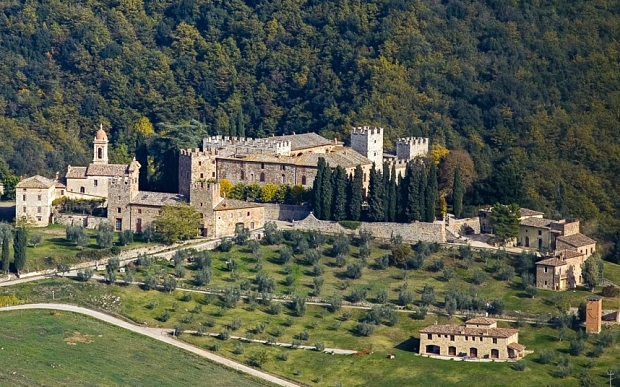 What is said to be the world's largest home currently on the property market, a medieval hilltop fortress estate in Italy, is for sale for 28 million euros – the price of one central London five-bedroom penthouse.
With 115 bedrooms, 100 bathrooms, four large swimming pools and various farmhouses set in 630 hectares, it is a dreamy Tuscan castle estate set not far from the classical medieval city of Siena in central Italy.
In fact next time you're going to Maranello to collect your new Ferrari, rather than rush straight home you might like to take a scenic drive. Head south for 200 kilometres, past Bologna and Firenza (Florence) to Siena, with its traffic-free ancient streets and squares under the gaze of ancient towers.
And a short drive into the countryside might – with a little adventuring – bring you here, a home centred on a medieval courtyard with tower and chapel. I know, because I dined here while touring with the Ferrari FF.
Despite alterations and extensions over the course of its history, the castle has retained the appearance of a real fortress. As you go through to the courtyard, with its charming loggia and gardens with box hedges, the views of vineyards, olive groves and typical Sienese countryside is spectacular. In fact you can see Siena from some parts of the property.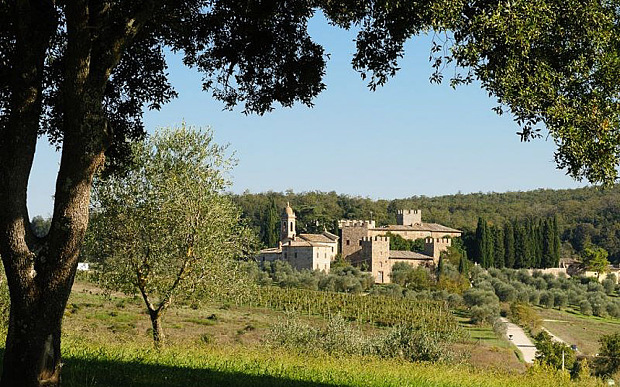 Although some rooms were decorated in the 18th century, many remain medieval in their architectural style, with ornate timbers, elaborately painted ceilings and marble floors. The castle dominates its surroundings, looking out over several of its farmhouses, all meticulously restored and given comfortable and luxurious interiors with big gardens, four large swimming pools and a tennis court.
Sometimes hired out for weddings, this is the kind of isolated idyll where you can picture superstars holding extravagant marital celebrations.
Producing award-winning wines and olive oil, the estate currently has 18 hectares of vineyards but potential to increase production up to 60 or 70 hectares. The vine varieties are Sangiovese, Canaiolo, Cabernet Sauvignon, Merlot and Viognier. There is an olive grove of 1,500 trees. The property would also be ideal for horses with 28 hectares of pasture and ample room for barns and boxes. There are two lakes on the property used for irrigation which are also used for fishing.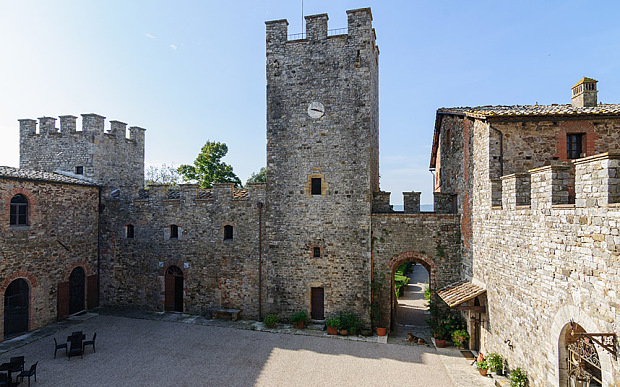 Agent John Jonk of Sotheby's International (0039 05507 51888; sothebysrealtycom) says there are few such medieval castles in Tuscany. "The castle was built at a time just before Giotto, when the Renaissance lay around the corner and Siena was at war with Florence."
From the 1400s it was in the Piccolomini family until the current owners bought it more than 30 years ago. "The price is unusually low considering it provides 154,139 sq ft of accommodation. But this reflects the market in Europe at the moment."
According to therichest.com, the world's largest home is the Istana Nurul Iman Palace, at 2.15 million sq ft. This is the official residence of the Sultan of Brunei with 1,788 rooms, 257 bathrooms, five swimming pools, a 110-car garage, air-conditioned stable for 200 polo ponies, banquet hall, and a mosque for 1,500 worshippers. Its estimated cost was £1.4bn.