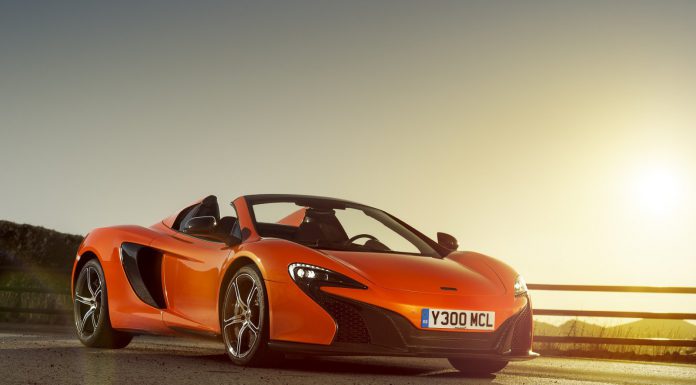 On top of revealing that many of its future cars will be hybrids, McLaren confirmed to Car and Driver at the Geneva Motor Show 2015 that its next range of cars will be faster, lighter and more aerodynamic.
Helping to ensure that future McLaren products are lighter than they currently are, the firm's chief executive Mike Flewitt said that thanks to falling carbon fibre prices, the British firm is in a strong financial position to use the material extensively. The upcoming McLaren Sports Series for example will be the only car in its segment to feature a carbon fibre monocoque.
GTspirit review of McLaren 650S

"World prices have come down but our volume leverage has gone up, so we've had a double benefit plus we're working very hard on the manufacturing technology. Traditionally there used to be a lot of waste; about 60 per cent of the carbon you bought ended up in the car. So if we can improve that, it becomes a lot more efficient. It's a trade-off. When you look at our financial status, we have to invest so much money in product because if we're not competitive we'll die. So we've got a very aggressive product plan—we're going to spend around £120m this year on engineering," Flewitt said.
As it stands, the recently revealed McLaren 675LT is a market leader in terms of weight. As a matter of fact, it is almost 150 kg lighter than the Ferrari 458 Italia thanks to its extensive use of carbon fibre. Flewitt believes that reducing the weight of its cars "pays off in every sense: it makes the car more efficient, it makes it handle better, it improves the whole driving experience."
In the next 10 years, McLaren hopes that about half of its cars will be hybrid. Before then however, the marque will focus heavily on improving the aerodynamics of its fleet. More advanced active aerodynamic components will be a key element of this.
According to Flewitt, "It's probably going to be the biggest change. We've learned a huge amount and it's one of the things we've been able to bring across from motorsport. The P1 has the most downforce of any road car ever. Aero is going to have to continue to develop for us to be able to carry on delivering improved performance—and driver-focused performance."
[Via Car and Driver]