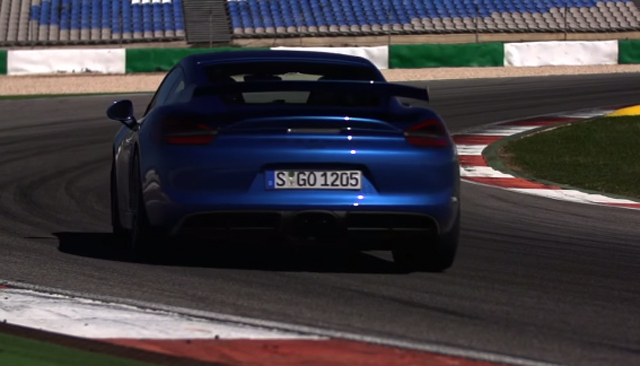 On the back of the Porsche Cayman GT4 launching at the Geneva Motor Show 2015, Chris Harris once again headed to the Portimao circuit to test out the most potent Cayman variant ever offered for the street.
In typical Chris Harris fashion, the video combines some stunning driving shots as well as some clean laps to demonstrate the car's grip and cornering speeds. Characteristically, monkey Harris also discovers just how the Porsche Cayman GT4 drifts and unsurprisingly, it is quite happy to kick its tail out around the corners!
[youtube]https://www.youtube.com/watch?v=L9-Sr8RPty4[/youtube]
The Porsche Cayman GT4 is of course a lighter, more powerful, more extreme version of the popular Porsche Cayman. The mid-mounted 3.8-litre flat-six now produces 385 horsepower. 0-100 km/h (60 mph) is possible in 4.4-seconds and a 295 km/h (183 mph) top speed is now possible. As with all Porsche products, the Cayman GT4 is also at home on the Nurburgring having recorded a blistering 7 minutes and 40 second time.
The Porsche Cayman GT4 also receives a large fixed rear wing together with a reworked front facia and a new rear diffuser. With the new look and the increased performance, the Porsche Cayman GT4 becomes a very exciting proposition indeed! On paper it looks as though it does for the Cayman what the GT3 does for the Porsche 911.