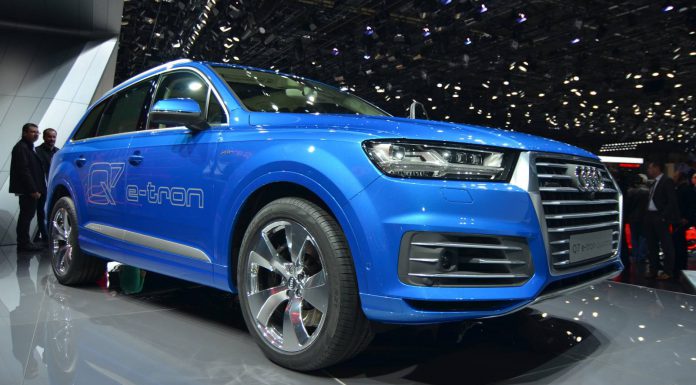 On the back of the Audi Q7 e-tron launching at the Geneva Motor Show 2015, it has emerged that the United States and China will receive a slightly different version.
As for the Q7 e-tron unveiled at Geneva, it combines a 3.0-litre six-cylinder turbodiesel engine and an electric motor complete with a lithium-ion battery. However it has since been confirmed that U.S. and China bound Audi Q7 e-trons will instead make use of a 2.0-litre turbocharged four-cylinder petrol engine instead of the turbodiesel.
The information was revealed by Audi development boss Ulrich Hackenberg while speaking with Automotive News at Geneva 2015 and while it remains unclear why the U.S. and China are receiving a different version, Hackenberg did reveal that the diesel could arrive in those countries at a later date.
In fact he said "In the U.S. we are having success with diesel cars. We are analysing the market so maybe we will also have a diesel hybrid."
As for the European bound Audi Q7 e-tron models, we know that its combination of a 3.0-litre turbodiesel and the electric engine are good for 373 hp and 700 Nm of torque. As a result of this, the car will accelerate to 100 km/h from a standstill in a respectable 6 seconds and onto a top speed of 225 km/h. Beyond these impressive performance specs, the Audi Q7 e-tron averages just 1.7 litres of diesel per 100 km as well as fewer than 50 grams of CO2 emissions every kilometre. The pure electric range sits at 56 km.
The lithium-ion battery pack used by the 2015 Audi Q7 e-tron features 168 individual battery cells and is liquid cooled. It has a 17.3 kWh capacity and that helps achieve the aforementioned 56 km electric range. The total range of the Q7 e-tron is 1410 km.
[Via Automotive News]