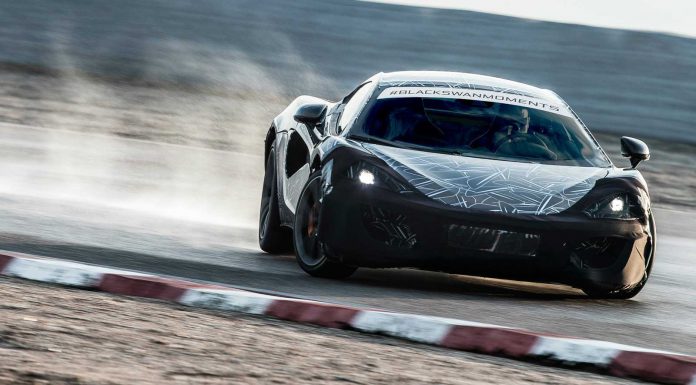 New information about the upcoming McLaren Sports Series has emerged prior to the car's unveiling at the New York Auto Show 2015 starting next month.
While speaking with McLaren Automotive chief executive Mike Flewitt at the Geneva Motor Show 2015, Car and Driver managed to ascertain some interesting new information about the upcoming sports car. For starters, they were able to confirm what we previously knew; it will utilise the firm's existing 3.8-litre twin-turbocharged V8 mated to a seven-speed dual-clutch 'box. Additionally, it will feature a redesigned variant of the carbon fibre Monocell from the 650S.
Elsewhere, Flewitt confirmed that at least initially, two coupe variant of the Sports Series will be produced. The entry-level variant will be dubbed the 'C' while the other will wear an 'S' badge. In both specifications, power will sit in the 500 hp mark to rival both the Porsche 911 Turbo and 911 Turbo S.
Discussing the variants, Flewitt said, ""The C model will still be an absolutely complete car in terms of technology but the S becomes almost our ideal specification—more power, more focus, and so on." Beyond these two, a special Long Tail variant is also pinned to reach the production line.
In terms of price, Flewitt confirmed that the Sports Series will be aimed squarely at the 911 Turbo and Turbo S duo. While talking about price, Flewitt said "What we've done—and really where the car was developed from—is ask how far can we come down the price gradient but retain the technology that defines McLaren. That's how we got to this price point. We didn't set the price and work backwards, we said we can make a car and make an acceptable return, just about."
[Via Car and Driver]