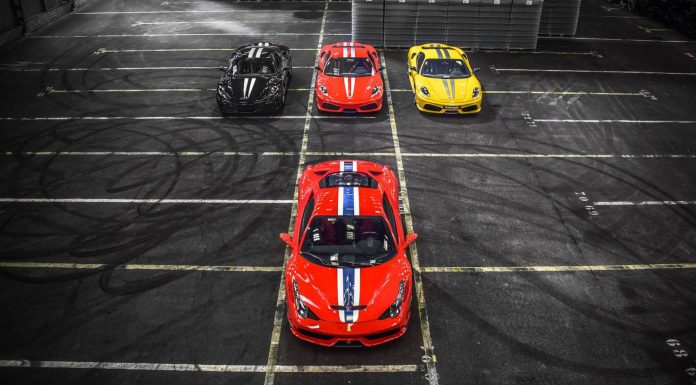 Ferrari's hardcore, track-oriented variants of its mid-engined, V8 powered supercars are always regarded as among the finest vehicles the marque has ever produced. The most recent is of course the Ferrari 458 Speciale and before the stripped down 458 was the Ferrari 430 Scuderia. For our latest Photo Of The Day feature, Mick Kok Photography recently had the opportunity to snap a red 458 Speciale alongside three additional 430 Scuderias.
In case you didn't know, the Ferrari 458 Speciale gets a modified variant of 458's 4.5-liter V8 engine. In the Speciale it delivers a total of 597hp and 398lb-ft of torque making it the most powerful naturally aspirated V8 engine ever produced by Ferrari. Weight reduction is a big part of the philosophy, the Speciale loses 195 kg over the standard 458 Italia at 1,290 kg. This is 40 kg heavier than the 430 Scuderia, yet the extra power makes up for it. Ferrari claims a sprint time to 100km/h of just 3 seconds, the Speciale can then hit 200km/h in just 9.1 seconds.
The Scuderia uses a 4.3 liter V8 with 508hp that is able to sprint it from naught to 100km/h in 3.6 seconds, thanks to the F1 inspired transmission, enhanced intakes and more power than the base model. It can achieve an autobahn maximum of 319km/h, to praise it even more; the car is equally fast as the Ferrari Enzo and the standard Ferrari 458 Italia around the Fiorano test track.