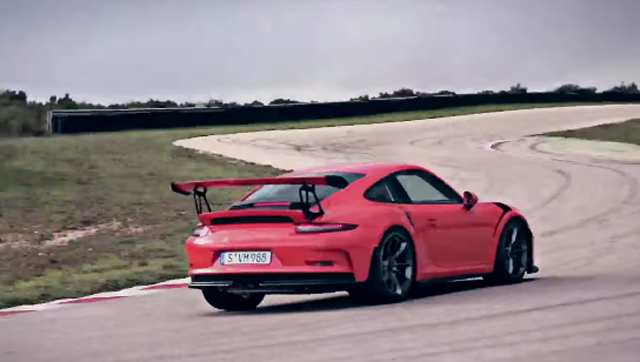 The first official video of the 2016 Porsche 911 GT3 RS has just been released with it following Porsche LMP1 factory driver Brendon Hartley on his journey to drive the new 911 GT3 RS at the Nardo test track. While there is a little bit too much talking in the video for our liking, there's no doubting the potency of the 911 GT3 RS on a racetrack which is ultimately where it is best suited.
[youtube]https://www.youtube.com/watch?v=Gqn2Ph_0TRc&t=339[/youtube]
In case you didn't know, the 2016 Porsche 911 GT3 RS uses a brand new 4.0-litre six-cylinder engine which remains naturally aspirated. It has been tuned to deliver 493 hp (the same as the 997 GT3 RS 4.0) but now delivers 384 lb-ft of torque which is 15 lb-ft more than the GT3 RS 4.0. Additionally, these figures represent a 25 hp and 60 lb-ft increase over the current 911 GT3.
As always, the new Porsche 911 GT3 RS features rear wheel drive and the aforementioned six-cylinder engine is coupled to a seven-speed dual-clutch PDK transmission. When combined with an advanced torque vectoring system and a variable locking differential, Porsche claims the new 911 GT3 RS will lap the famous Nurburgring Nordschleife in 7 minutes and 20 seconds. Alongside that 'Green Hell' time, the 2016 Porsche 911 GT3 RS will accelerate to 100 km/h in a mere 3.3 seconds and crack the 200 km/h mark in just 10.9 seconds. By comparison, the old 911 GT3 RS needed 3.9 seconds to hit 100 km/h.