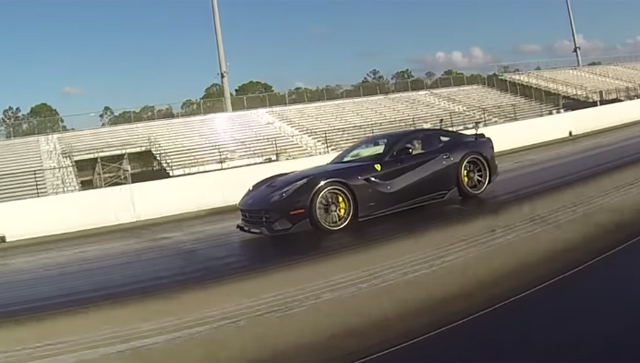 Ever since the Tesla Model S P85D was launched, we've seen it embarrassing some of the world's finest supercars thanks to its ferocious acceleration off the line. In the following video of the Model S P85D racing a Ferrari F12 Berlinetta at the drag strip, it is the V12-powered Italian supercar which comes out on top at the end of the quarter mile however.
[youtube]https://www.youtube.com/watch?v=_nQDU7HOStc&t=64[/youtube]
By the time the run was completed, the F12 Berlinetta laid down an impressive 10.893 second sprint at a trap speed of 132.5 mph. By comparison, the Model S P85D recorded an 11.6 second run at 115 mph. While the F12 came out on top, the Model S P85D is proving itself to quite possibly be the world's quickest accelerating production car off the line thanks to its 691 hp and mountains of instantaneous torque.