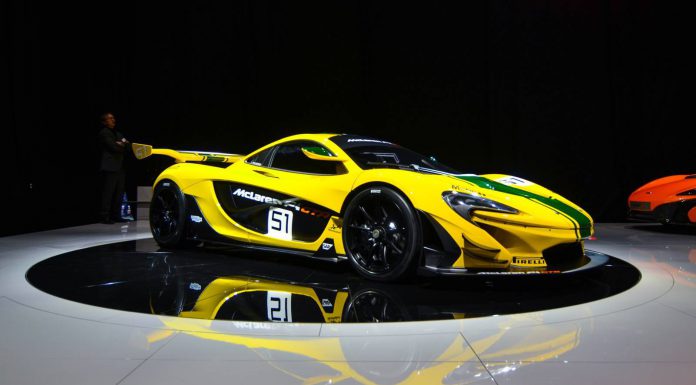 Any car produced by McLaren to wear the GTR badge has to be exceptional and the recently revealed McLaren P1 GTR is just that. If you haven't had the opportunity to check out our full report on the P1 GTR, be sure to do so. In the meantime, how about a video featuring McLaren Automotive's chief test driver Chris Goodwin talking about the P1 GTR from the British marque's Geneva booth?
[youtube]https://www.youtube.com/watch?v=_fGDShczamY&t=165[/youtube]
As you've probably noticed, the biggest difference between the McLaren P1 GTR unveiled at Geneva and the P1 GTR Design Concept from last year is the livery. The new livery pays homage to the chassis #06R McLaren F1 GTR and will be one of a selection of finishes available to P1 GTR customers.
All told, the front track of the McLaren P1 GTR has been increased by 80 mm over the road car and has been completed with an aggressive front splitter even more pronounced than the road cars. Reprofiled low temperature radiator ducts seamlessly flow into the leading edge of the aggressively flared front wheel arches while the active aerodynamic flaps from the 'normal' P1 have been maintained.
Additionally, new race-prepared suspension has been fitted providing a fixed ride height which is lower than the standard car. The wing mirrors have been repositioned onto the A pillars to put them closer to the eye of the driver and reduce aerodynamic drag. Meanwhile, the trailing edge of the door-mounted radiator channels have been extended to draw more air down through the cavity within the door, and into the engine to aid cooling.
Modifications have also been made to the engine of the McLaren P1 to create the P1 GTR. Typically the P1's 3.8-litre twin-turbocharged engine and electric motor make 903 hp combined. That has been increased to 986 hp (1000 PS) for the McLaren P1 GTR however.