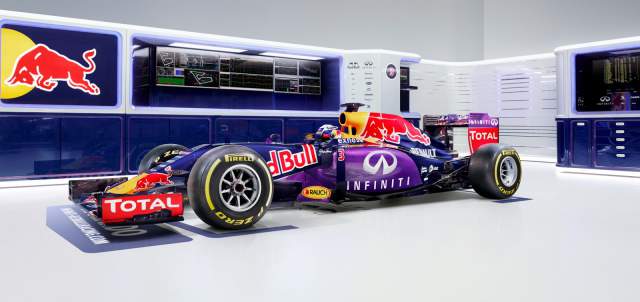 After debuting the unique 'CamoBull' during pre-season Formula One testing, the race-ready livery for the Red Bull Racing RB11 F1 car has been revealed.
Unsurprisingly, the race-ready livery of the RB11 is almost identical to the livery of the RB10 and other iterations of the Red Bull Formula One racer. With that being said, more purple elements are featured on this year's entrant on the rear wing and most predominately on the side pods. Elsewhere, there are no real surprises with the usual amount of Red Bull, Renault and Infiniti stickers as well as Red Bull Racing's characteristic red, yellow, white and blue colour theme.
Discussing the livery, the team said, "It's not the first alternative livery we've used and doubtless won't be the last – but we've made our mark in the last ten years in dark blue, and in dark blue we'll remain. Those are the racing colours in which we've achieved great things. We're not the most traditional of F1 teams, but like the rest of the sport, we value heritage."
Underpinning the RB11 is of course a Renault-engineered 1.6-litre turbocharged V6 engine combined with the MGU-K and MGU-H hybrid recovery systems. Red Bull hopes that its RB11 will be able to keep pace with the Mercedes-powered cars.