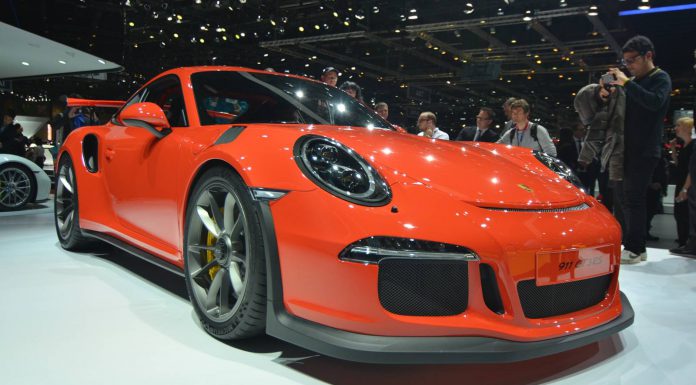 Porsche went for double tops in world premieres with the 991-generation Porsche 911 GT3 RS sharing the limelight with the Porsche Cayman GT4 at the Geneva Motor Show 2015.
The new 2016 Porsche 911 GT3 RS evolution promises to be not only faster than the 997.2 car but also being more suited to everyday driving on the road. With this in mind, we checked it out live!
The Porsche 911 GT3 RS will use a brand new 4.0-litre flat six-cylinder engine delivering a total of 500 hp and 340 lb-ft. While the power and torque figures are up over the 911 GT3's existing 3.8-litre unit, the rev limit has been reduced slightly from 9,000 rpm to 8,800 rpm.
There was speculation aroused by the air intake on the rear arches that are synonymous with the 911 Turbo model. This has been applied to the GT3 RS but only as a design feature, the car remains naturally aspirated.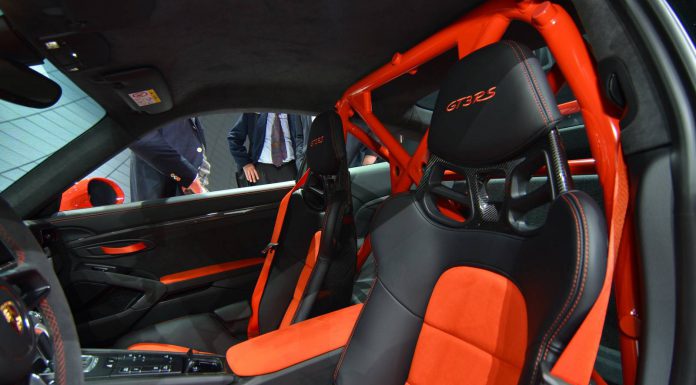 As predicted, power will be funnelled to the rear wheels exclusively through a seven-speed PDK transmission. The Porsche 911 GT3 RS will also use large 20-inch wheels at the front and 21-inch at the rear with large 325 section tyres.
For a racetrack-focused machine, the track of the Porsche 911 GT3 RS is 36 mm wider than the GT3 with the front of the body 50 mm wider and the rear 30 mm wider. As with all RS models, weight saving has been key, the new 911 GT3 RS tips the scales at 1420 kg which is 10 kg less than the 911 GT3 despite all the additional components adopted by the GT3 RS.
These include a more prominent front splitter has now been installed alongside an absolutely towering rear wing designed to provide maximum downforce in all conditions whether on the street or on the track. Elsewhere, the 2016 Porsche 911 GT3 RS adopts a magnesium roof as well as a bonnet and boot created from carbon fibre reinforced plastic. The total 1420 kg kerb weight results in 347 hp per tonne.

For all the latest from the Geneva Motor Show 2015, take a look at our dedicated news feed or follow us on Facebook, Twitter, Instagram or Google+.