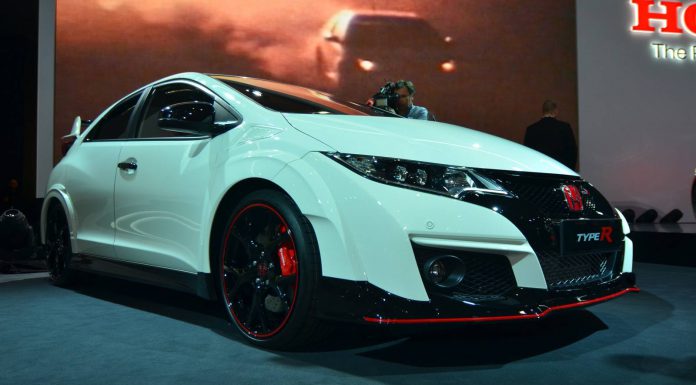 The highly anticipated 2015 Honda Civic Type R has been unveiled at the Geneva Motor Show 2015. We checked it out in person!
The all-new Type R will be Honda's most aggressive Civic ever, featuring an impressive top speed of 268 km/h. Compared to the standard car, the new Honda Civic Type R has an entirely reworked front fascia, including an aerodynamically styled front bumper. According to Honda, the new front fascia design is designed to "inhibit air turbulence around the front wheels, cutting drag and enhancing high-speed stability."
The Civic Type R also features Brembo front brakes with four-piston calipers and 350 mm discs. As you can see in the gallery above, the Type-R also receives an exclusive set of 19″ allow wheels as well.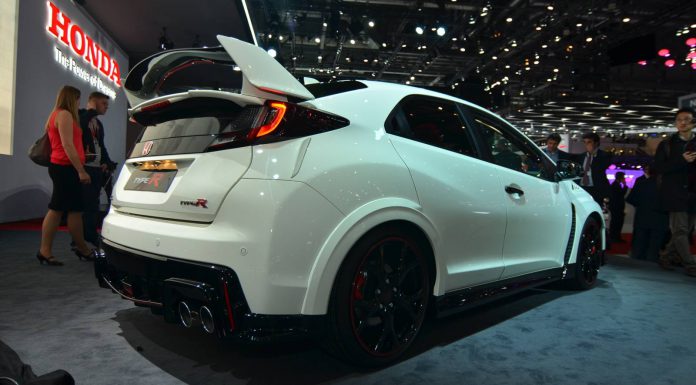 As a reminder, the 2015 Honda Civic Type R uses a 2.0-litre four-cylinder engine which is turbocharged and consequently delivers 306 hp. This means the car will launch itself from 0-96 km/h in a handsome 5.7-seconds.

For all the latest from the Geneva Motor Show 2015, take a look at our dedicated news feed or follow us on Facebook, Twitter, Instagram or Google+.