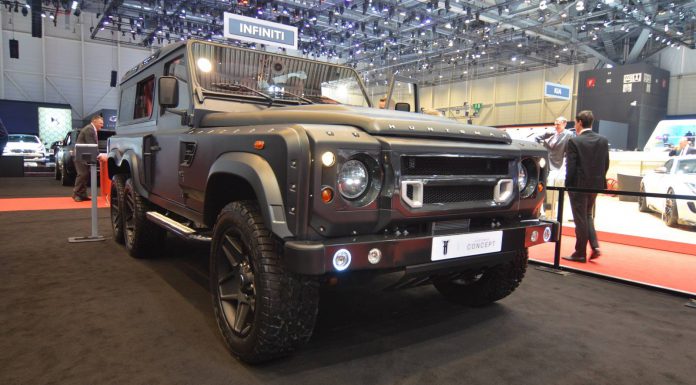 One of the more extreme concept's at the Geneva Motor Show 2015 this year is the Kahn Design Flying Huntsman 110 WB 6×6 Concept. It's a 6×6 Land Rover Defender, most likely inspired by the success of the Mercedes-Benz G 63 AMG 6×6. We took a closer look at this insane beast!
The Land Rover will end production of the iconic Land Rover Defender at the end of the year. The Kahn Design Flying Huntsman 110 WB 6×6 Concept is probably a fitting end for such a vehicle in the eyes of the British tuning firm. So over the top and insane is the idea that it almost seems ironic given the utilitarian nature of the original Defender models.
The Kahn Design Flying Huntsman 110 WB 6×6 Concept is based upon the Land Rover Defender 110 model. iT comes equipped with a 6.2-litre General Motors LS3 V8 engine, driving a six-speed automatic gearbox. Power is expected to be around 430 hp and it will keep the locking differentials and low range gear capability.

The coachwork is custom and provides a 400mm extension to the bonnet, a 800mm extension to the rear cabin and a 150mm wider track. The windscreen has increased raked, the front doors and larger and the roof is fully panoramic. We are told that Kahn Design are looking to make a production version with both 4 and 6 wheel versions being considered in up to five potential variants.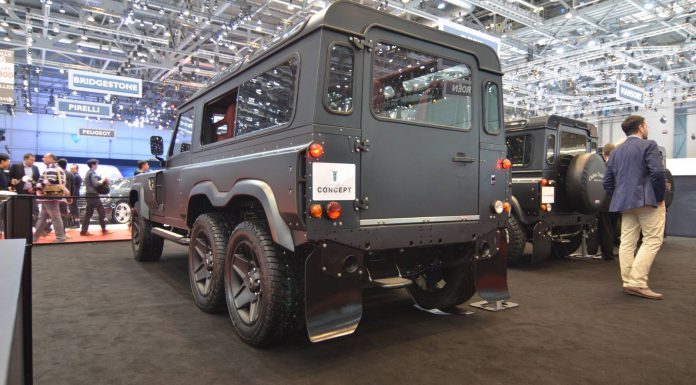 For all the latest from the Geneva Motor Show 2015, take a look at our dedicated news feed or follow us on Facebook, Twitter, Instagram or Google+.