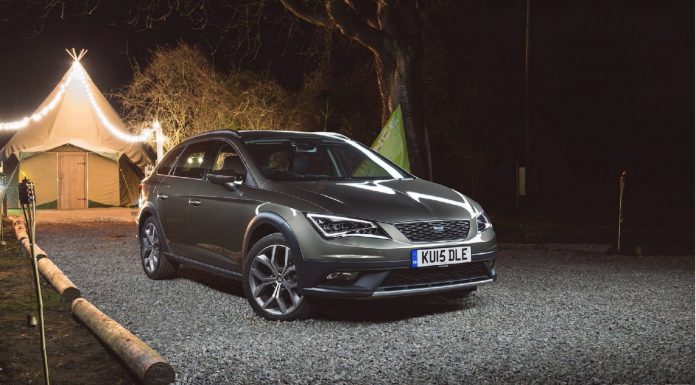 SEAT has its Spanish eyes firmly set on a higher horizon, and its first all-wheel drive car, the newly launched Seat Leon X-PERIENCE "softroader", is just a boot in the water on the way to wading into the SUV sector.
It was only earlier this month that Seat revealed its strategic vision for the future in Geneva with the 20V20 showcar (meaning Vision 2020) that Seat president Jürgen Stackmann said showed their ambition for the next five years and the start of an SUV family.
Seat has long been the 'little brother' in the Volkswagen Audi Group family, with its fun hatchbacks like Ibiza and the Cupra sporty models alongside the straight-laced Skoda workhorses, suited Volkswagens, and premium pace and cut of the Audis.
But now the fun-loving youngster blending the best of German technology with Spanish flair is punching ahead, with its first all-wheel drive model – with 4Drive on the Seat Leon estate, soon to be joined at the top of the tree by the 280 hp TFSI in Leon ST Cupra mode to lead the family power charts. And pointing the way to production reality of the 20V20 showcar concept pictured below.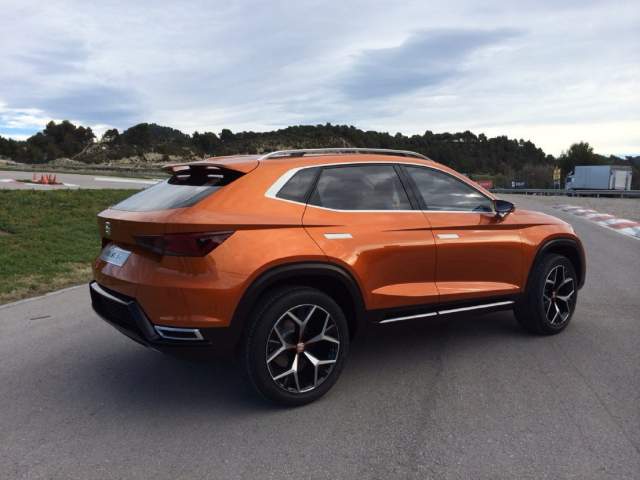 Seat Leon X-PERIENCE is the name of the new "lifestyle" niche model, built on the same MQB platform and systems as the VW Golf, Audi A3 and Skoda Octavia. With choice of 150 and 184 hp 2.0 TDI diesels and 6-speed manual or DSG automatic transmissions, it is attractively priced from £24,385 with 150 hp.
Moving up to the SE specification adds £3,000 of equipment while raising the price by only £1,900 to £26,370, while moving up again to the SE Technology spec with 184 hp and DSG auto transmission takes it to £28,870.
For launch we had the fully-specced Seat Leon X-PERIENCE SE Technology 2.0 TDI 184 hp 6-speed DSG-auto finished in Technic Grey metallic, that had £2,455 of options with the Lux pack and winter pack and panoramic roof plus towbar pre-installation, that came out at £31,855 – a really competitive package.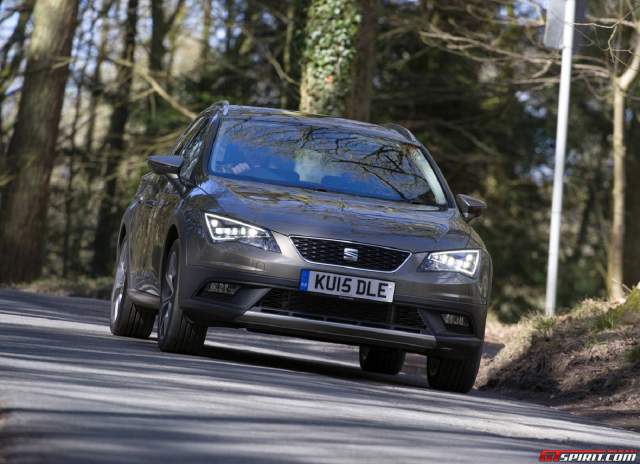 Driving close to England's Welsh borders, we found the spacious new car with its supportive seats, premium finish and wealth of technological sophistication more than suited to a full spectrum of driving conditions. These ranged from lanes and village streets to motorways and the contrasting fun of a genteel drive respecting the wildlife through a variety of gradients and surfaces on forest tracks once used for some of the finest British rallying in the Forest of Dean.
These Seat Leon X-PERIENCE models are no slouches, with the 150 hp version clocking 0-100km/h in 8.7 seconds on the on the way to 129mph (207 km/h) top speed, the 184 hp version more rapid with 0-100 km/h in 7.1 seconds and 139 mph (224 km/h) maximum.
But all three models boast combined economy of 57.6 mpg and 129 g/km C02 emissions unrivalled for the power in the 4X4 sector, helped by stop-start system and energy recovery and the fact that the electronically-controlled fifth-generation Haldex all-wheel drive system is on-demand. Generally the car will be using front-wheel drive but automatically transferring up to 50 per cent of the power to the rear wheels as conditions demand, distribution balanced side to side by traction control.
Visually and for practicality, the Leon X-PERIENCE is enhanced with jacked-up suspension – raised 3cm against the ST – to improve ground clearance and rugged protective mouldings on sills and wheel arches, a paint-saver on gravel.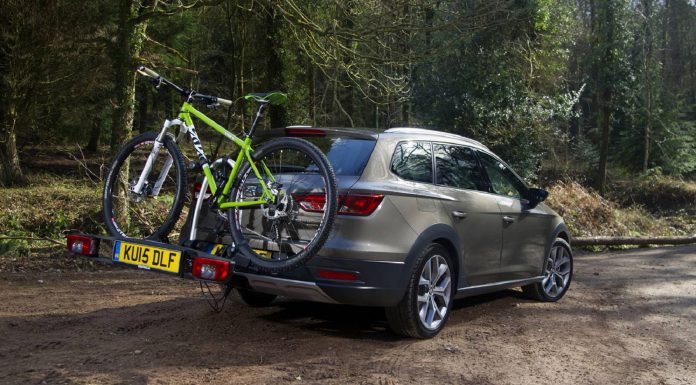 Seat anticipates conquest sales growth with the model pitched at reasonably well-earning adventurous and spirited drivers, mainly men, married, aged 34-44 with a high proportion interested in cycling, triathlons and other outdoor sports. They'll appreciate the flexibility offered by roof rails, a £155 towbar pre-fitment option and the vast carrying potential and flexibility of a boot of 587 litres, with double height floor, nearly tripling to 1,470 litres with the rear seats folded at one tug of a lever, and a centre through-load hatch.
In entry trim the good-looking and well-finished 4X4 estate comes with 17 inch alloy wheels, roof rails, climate control, rear parking sensors, leather steering wheel – with audio volume, radio and phone controls at your fingertips – and twin exhaust tailpipes.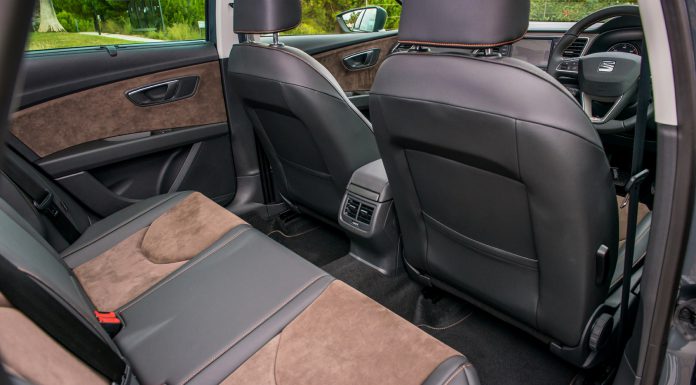 Moving up to SE Technology level, the wheels are 18 inch alloys, technology pack bringing DAB digital radio, navigation system and full LED headlight pack, convenience pack with folding door mirrors and front sports seats in Alcantara with simil leather bolsters, as well as Seat Media System Plus that gives 5.8 inch colour touchscreen and iPod connection, plus Drive Profile.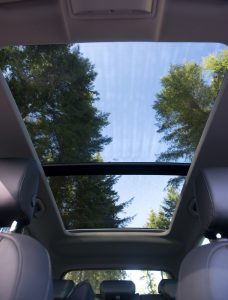 Drive Profile on the 184 hp model gives a choice of eco, normal and sport settings, with electronic damper control that monitors road conditions by radar and driving style – the kind of sophistication you'd be looking for in an Audi TT only a couple of years ago.
The cars are highly specced already but the options are attractively priced – the huge full-length panoramic sunroof with electrically-opening slide-and-tilt front pane and wind deflector for buffet-free fresh-air motoring and a retractable sunblind as well as LED interior illumination pack is £1,050.
A Lux pack at £1,250 brings black leather upholstery, heated front seats and washer nozzles and electrically adjustable driver's seat. And the adaptive cruise control with front assist is competitive at £505.