GTspirit are live at the Geneva Motor Show 2015, where at the Volkswagen Group Night we were all shocked by the unveiling of the jaw-dropping Bentley EXP10 Speed 6 concept that arrived previously unannounced.
As you can see, the Bentley EXP10 Speed 6 is a swooping 2-door Bentley GT car that we suspect will be targeting other sporting coupes such as the Mercedes-AMG GT, Audi R8 and Jaguar F-Type Coupe – each brilliant cars in their own rights.
Being a concept car, Bentley really pushed the boat out by fitting the beautiful concept with a hybrid engine, a hint to what Bentley have in store for future generations.
The Bentley EXP10 Speed 6 uses copper elements as accents to both exterior and interior. The design gets the traditional Bentley matrix grille and four-round headlamps. The car is low, sleek and features a heavily metallic version of British Racing Green. Bentley have used 3D metal printing technology for the grille mesh, exhausts, door handles and side vents to ensure precise detail.
The futuristic design continues with the car's interior, althought it is instantly recognisable as a Bentley cockpit with high-quality materials and ergonomics. The interior gets a continuous line that runs around the cabin. Two elegant quilted sports seats are positioned either side of the narrow centre console.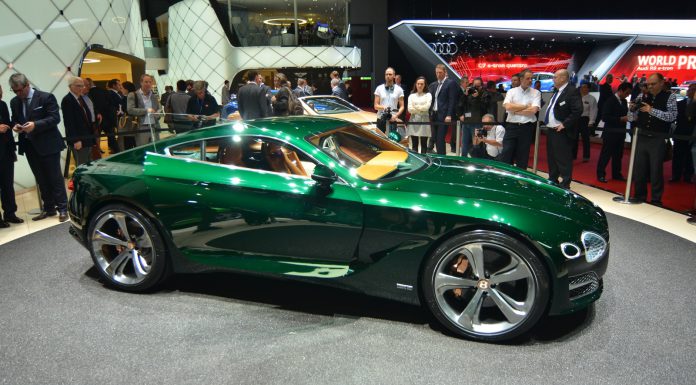 The console itself gets a exquisite driver controls and a 12-inch touch screen for the MMI. The Bentley EXP10 Speed 6 also features more traditional materials including 3D quilting, milled directly into solid straight-grain cherry wood. The rear interior space is divided into two compartments designed to house a specifically designed four-piece luggage set.

The British manufacturer mentions the hybrid drivetrain although no further details have been specified.
For all the latest from the Geneva Motor Show 2015, take a look at our dedicated news feed or follow us on Facebook, Twitter, Instagram or Google+.