The monstrous MTM S8 Talladega S has been unveiled at the Geneva Motor Show 2015. Based on the Audi S8, the Talladega S gets 791 hp, a boost of over 200 hp. We took a closer look at MTM's blue limo.
MTM managed to achieve an impressive power boost from the twin-turbocharged 4.0-litre V8 engine. Changes were made to the gearbox programming and the turbochargers. MTM also fit a new stainless steel exhaust system with throttle valves and an X-pipe. The changes make for an impressive headline figure of 791 hp and 697 lb-ft of torque.
The MTM S8 Talladega S will accelerate to 100 km/h in just 3.1 seconds. It will pass 200 km/h in just 9.9 seconds and 300 km/h in 29 seconds. With the speed limiters removed, the Talladega S will then continue to accelerate right through to 350 km/h.
From a visual standpoint, the Talladega S can be differentiated from the Talladega with its new fixed rear wing which is certainly quite an eye-catching element. It is riding on the same 21-inch wheels sourced from Bimoto and includes subtle new visual elements the same as the Talladega like the fins in the front air intakes and the lowered suspension system.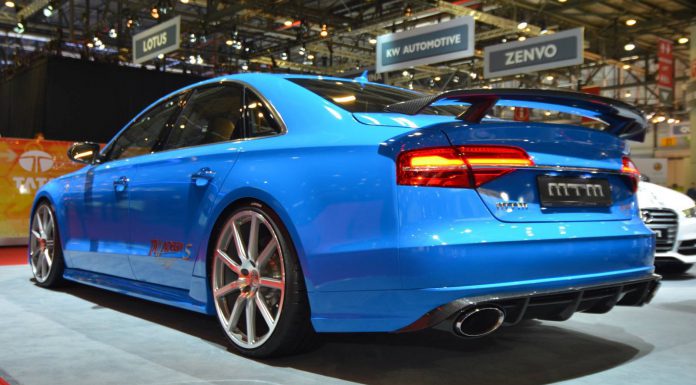 The power upgrade is listed on MTM's website at an eye watering 46,919 Euros including 19% German tax. If you want the full package, you are probably looking for at a price northwards of 50,000 Euros. The package is TUV certified and comes backed by an MTM guarantee.

For more details on the MTM S8 Talladega S, take a look at our earlier article. For all the latest from the Geneva Motor Show 2015, take a look at our dedicated news feed or follow us on Facebook, Twitter, Instagram or Google+.