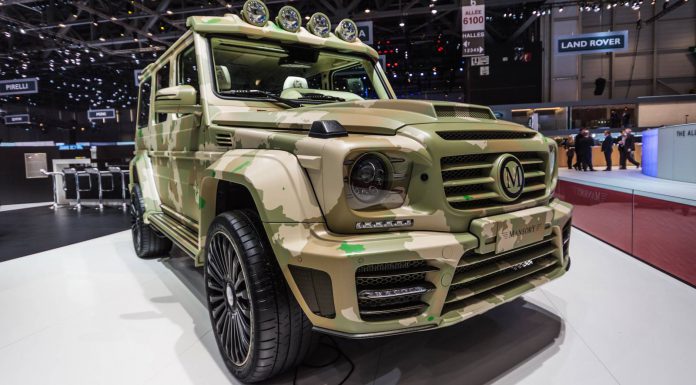 With the Mansory G 63 Sahara Edition, Mansory have presented the least stealthy camouflaged vehicle at the Geneva Motor Show 2015. The Sahara Edition gets completely redesigned, fully carbon fibre bodywork. We took a look at the car on the stand at Geneva!
The main feature of the Mansory G 63 Sahara Edition, aside from the camouflage, is the 40 millimetre fender flares. Both the front and rear have also been heavily revised in carbon fibre, the rear bumper is now completely carbon fibre. The headlights are brand new Mansory units with the addition of extra indicator lights.
Mansory G 63 Sahara Edition
Mansory have also upper the power of the 5.5 litre V8 powerplant with work to the pistons, connecting rods, big end bearings, crankshaft, crank and cylinder head. To finish it off, the entire exhaust has been redesined, from the manifold to the stainless steel double end pipes.
The updates mean that instead of the standard 536 hp, the Sahara Edition manages 828 hp with an electronically limited 1,000 Nm of torque. Performance statistics haven't yet been released, however, we suspect that the additional power will slightly improve speed and acceleration.

The wheels are a Mansory design and are available in sizes ranging from 21 to 23 inches. For a more comfortable ride, Mansory also offer a 22 inch Multispoke rim in combination with 305/35/22 tyres.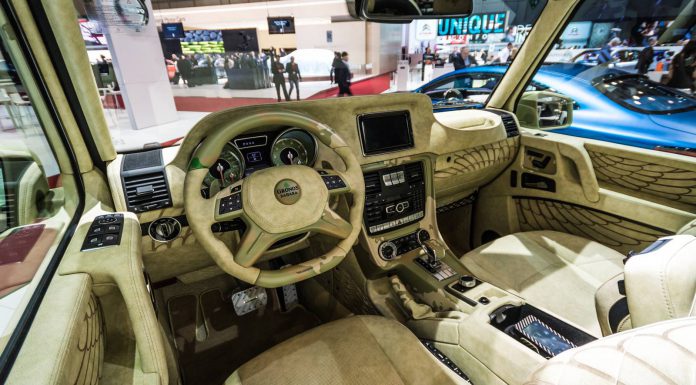 Inside, the Mansory G 63 Sahara Edition receives a new leather interior. The redesign is complete and covers the entire dashboard and centre console. The leather is a new marbled camouflage effect and parts of the interior hey an embroidered stylized Falcon.
For all the latest from the Geneva Motor Show 2015, take a look at our dedicated news feed or follow us on Facebook, Twitter, Instagram or Google+.