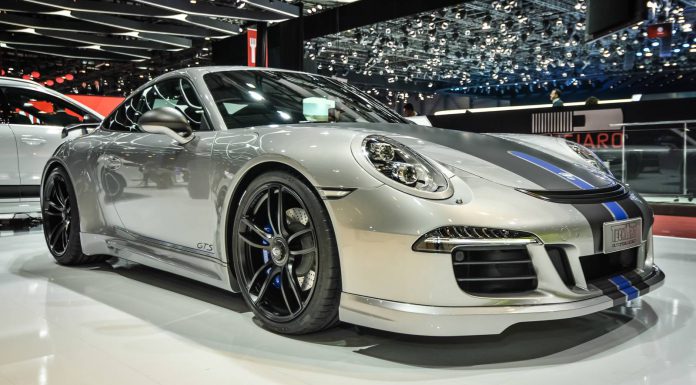 Techart's display at the Geneva Motor Show 2015 includes a kit based upon the Porsche Carrera GTS. The GTS is taken to a new level with increased individuality, a visual update, better handling and improved acoustics. We took a look at the car up close on the stand!
The Techart Porsche Carrera GTS gets the usual refinements, a new front spoiler, an elegant roof spoiler, a rear spoiler and side skirts. It is the typical Techart blend of aerodynamic performance with aesthetic design, a well balanced kit for those that need something a little different.
Techart Porsche Carrera GTS at the Geneva Motor Show 2015
The Techart Porsche Carrera GTS gets custom exterior trims available in a wide variety of colours and naked carbon fiber. Trims include the air outlet at the front of the luggage compartment lid, design trims for the headlights and the exterior mirrors.

Teacart also offer an electro-hydraulic Noselift system which provides an additional 45 mm of ground clearance. It can be used from standstill and at low speed, it is automatically lowered at 60 km/h. Wheels are Techart Formula IV Race centerlocks with distinctive five twin-spokes. A variety of different wheel options are available if your aren't a fan of the Formula IV Race wheels.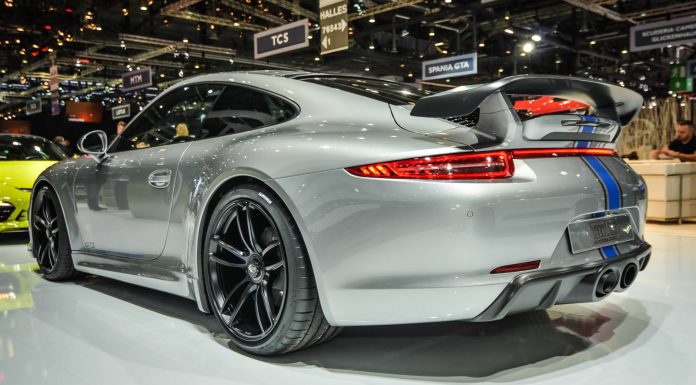 For all the information on the Techart Porsche Carrera GTS, take a look at our earlier article. For all the latest from the Geneva Motor Show 2015, take a look at our dedicated news feed or follow us on Facebook, Twitter, Instagram or Google+.