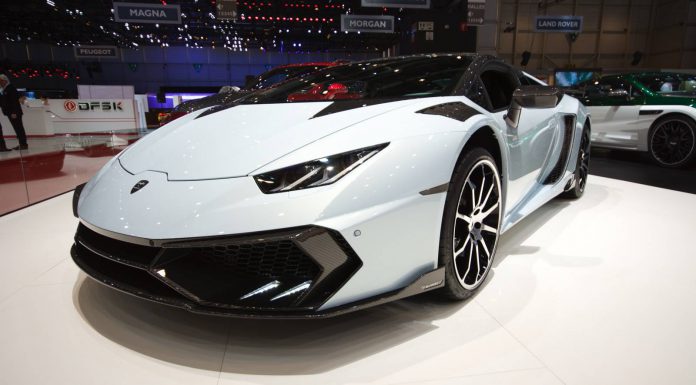 Mansory normally have something completely over the top to show in Geneva. The Geneva Motor Show 2015 is no exception. Whilst there are no carbon fibre Aventadors, Veyrons or F12s, we have spotted the Mansory Huracan Torofeo, a carbon fibre Lamborghini Huracan! We took a closer look.
The name reflects the Spanish word 'Toro', meaning bull, as well as the Super Trofeo Motorsports series. Mansory have applied their expertise to every body panel. The Mansory Huracan Torofeo gets a new front apron with a front lipid daytime running lights.
Mansory Huracan Torofeo
Moving along the side, the side skirts and combine with the wheel arches. Overall, the body is 30 millimetres wider at the front and 40 millimetres wider at the back. At the back, Mansory fit an aggressive rear spoiler and the diffuser. New stainless steel tailpipes finish the look at the rear.
In terms of performance. Mansory have done to town on the Lamborghini 5.2 litre V10. With new pistons, connecting rods, bearings, camshafts, a water-cooled intercooler, an entirely new fuel system and two bearing-mounted Mansory turbochargers, the Mansory Huracan Torofeo means business!

Power is up to 1,000 hp and 1,000 Nm of torque making this the most powerful Lamborghini Huracan yet. Mansory have retained the four wheel drive system and claim that a 0 to 100 km/h time of 2.7 seconds is now possible with top speeds of 340 km/h.
To keep the Mansory Huracan Torofeo on the road, a set of forged alloy wheels measuring 9×20 and 12.5×21 inches have been coupled with rubber measuring 245/30ZR20 at the front and 325/25ZR21 at the back. Inside, the car receives typical Mansory leather, Alcantara and carbon fibre applications.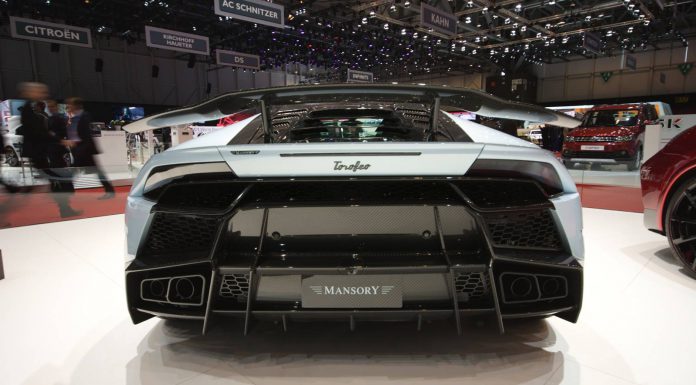 For all the latest from the Geneva Motor Show 2015, take a look at our dedicated news feed or follow us on Facebook, Twitter, Instagram or Google+.