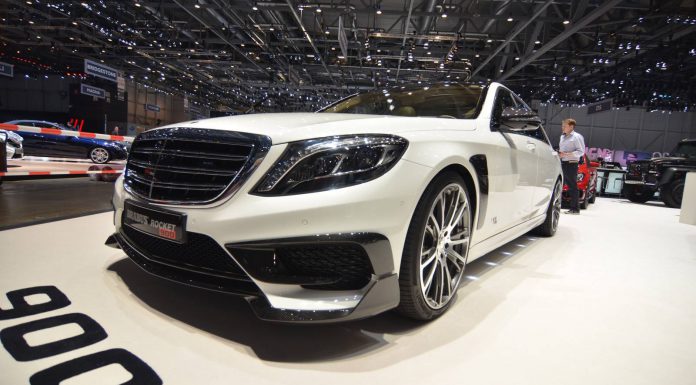 Mercedes-Benz tuning specialists, Brabus have taken the wraps of the new S-Class project at the Geneva Motor Show 2015. The Brabus Rocket 900 promises to be the fastest and most comfortable cruiser to come from the German tuner. It is not the first time they have worked on the latest S-Class, we have already seen the Brabus 850, based upon the S 63 AMG.
The Brabus Rocket 900 takes the game to new levels as it utilities the V12 bi-turbo engine taken from the S65. In it standard form this engine produces 630 hp and 1,000 newton metres of torque, very impressive figures indeed. Brabus have reworked a number of components and as a result, as the name suggests, the Brabus car creates a staggering 900 horsepower!
Brabus Rocket 900 at the Geneva Motor Show 2015
The Brabus Rocket 900 features larger pistons as well as turbochargers featuring larger compressor units and a larger turbine. Elsewhere, 80 mm downpipes have been installed alongside modified exhaust manifolds. A new air intake system is also found on the Brabus Rocket 900 with it drawing in cold air directly from the radiator and front grille. The new intake manifold also features gold heat reflection to ensure it always provides maximum power in even the hottest conditions.
The Brabus Rocket 900 will accelerate to 100 km/h in a mere 3.7 seconds, 200 km/h in 9.1 seconds and a top speed in excess of 350 km/h. Brabus has also installed the Rocket 900 with its AirMatic Sport suspension system which drops the ride height by 15 mm without compromising the ride quality.

The Brabus exterior program for the Rocket 900 includes a new front fascia which has been extensively modified to incorporate a new grille and thoroughly revised air intake surrounds. Additionally, a new splitter has been installed for an added sense of aggression. Moving along the sides, the Rocket 900 features a new air extractor behind the front wheels and lowered side skirts. At the rear, the Brabus Rocket 900 adopting a subtle bootlid lip spoiler, new bumper, revised quad exhaust pipes and a bold diffuser incorporating a Formula One inspired high-intensity brake light.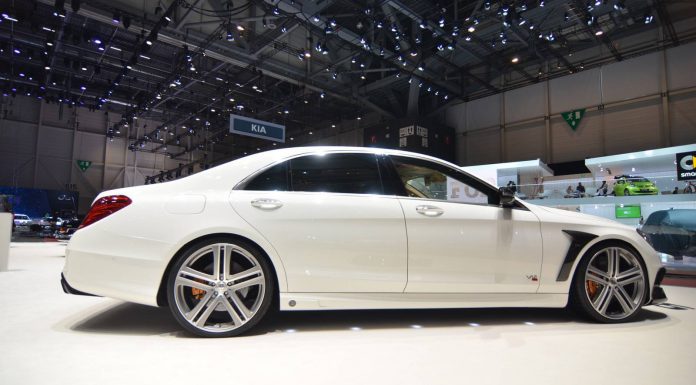 For all the details on the Brabus Rocket 900, take a look at our earlier article. For all the latest from the Geneva Motor Show 2015, take a look at our dedicated news feed or follow us on Facebook, Twitter, Instagram or Google+.